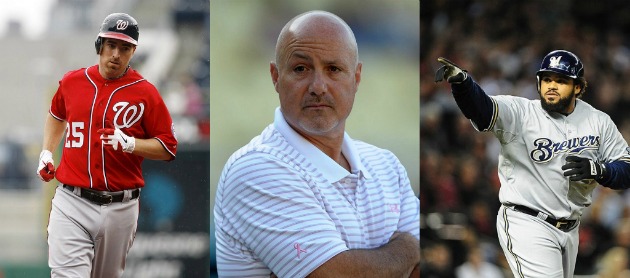 By C. Trent Rosecrans
Mike Rizzo wants you to know that the Nationals aren't interested in Prince Fielder. Really. But…
"As far as are we going to dab our toe in [the Prince Fielder] water, those are decisions we make early on in that process and we've more or less decided that Adam [LaRoche] is going to be our first baseman," Rizzo said Wednesday on MLBNetwork Radio (via the Washington Times). "Unless something extraordinary and out of the ordinary happened, that's how we're going into spring training."

FREE AGENT TRACKER
Last week Rizzo said the team was planning on LaRoche being the team's first baseman in 2012, but didn't exactly elaborate.
The Nationals have been a popular rumored landing spot for the biggest free agent left on the market, as the team has a lot of money to spend, a good history Scott Boras, Fielder's agent, and it has LaRoche at first base.
LaRoche, 32, was limited to 43 games in 2011 before undergoing labrum surgery in June. In the first year of a two-year, $16 million deal with the Nationals, LaRoche hit .172/.288/.258 with three homers and 15 RBI in 177 plate appearances. LaRoche is a career .267/.337/.478 hitter. He hit 32 homers with the Braves in 2006 and hit 25 homers for three straight years from 2008 to 2010 for the Pirates, Red Sox, Braves and Diamondbacks. LaRoche will make $8 million this season and there's a $10 mutual option for 2013, with a $1 million buyout.
"Adam LaRoche is under contract for us, we're paying him a lot of money to play first base for us next year," Rizzo said. "We feel that he's going to have a bounceback season. We just want him to have his career norms: .265, 25, 85-100 RBI and play great defense. We feel that his shoulder is rehabbed, he's 100 percent, and talking to him just recently, he feels great and he's ready to contribute to us in 2012."
As for Fielder, the question, of course, becomes what does "extraordinary" mean to Rizzo? Could it be Fielder open to a shorter contract with a higher average annual value? Or could it be a longer deal backloaded? Or just Fielder saying he's decided he wants to be a National. The longer Fielder stays on the market, the more possibilities can pop up and something out of the ordinary could happen.
For more baseball news, rumors and analysis, follow @EyeOnBaseball on Twitter, subscribe to the RSS feed and "like" us on Facebook.