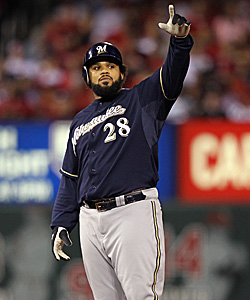 By Matt Snyder
Considering he's by far the biggest free agent left unsigned,
Prince Fielder
's name has been -- and will continue to be -- mentioned all over the place in rumors. The latest comes courtesy of Tom Haudricourt of the
Milwaukee Journal-Sentinel
. He reports that an "MLB official" says "word is spreading in the industry" that the
Nationals
are the favorite to land Fielder.
CBSSports.com's own Jon Heyman had previously reported that a Nationals player
believes they are "shooting for" Fielder
. And Monday, in response to the Haudricourt report,
Amanda Comak of the Washington Times
brings us the following: "According to team sources, the party line remains the same: Unless the price -- specifically in years -- drops, the Nationals are unlikely to be that landing spot."
FREE AGENT TRACKER
So what to believe?
Well, I'd say all of it. Here's why: The Nationals probably do want the price to drop, but are also interested in signing him if and when the price becomes right. Unless the
Cubs
or
Rangers
come out and blow away Prince and his agent, Scott Boras, what club is left to outbid the deep-pocketed Nationals (remember, they have the richest owner in baseball)? The
Mariners
or
Orioles
? Please. The
Blue Jays
? Maybe. If Fielder wants to go to the AL East and north of the border. Or he could join one of the most promising up-and-coming teams in baseball while staying in the NL.
So it seems as though the feeling that the Nationals will end up with Prince Fielder is very logical, and that's why they are continually speculated to be the frontrunner, even if management is telling all the local beat writers they aren't in on him. Just because they reportedly haven't offered him anything yet doesn't mean they won't.
Fielder, 27, hit .299/.415/.566 with 38 home runs, 120 RBI and finished third in MVP voting last season. While many question his long-term durability due to him being rather large, he's played an average of 160 games per season since being up full-time. He hasn't played less than 157 in a season and appeared in all 162 last year.
If the Nationals did land Prince, watch out. He would join
Ryan Zimmerman
,
Danny Espinosa
,
Wilson Ramos
,
Jayson Werth
and
Michael Morse
on offense, while they all waited on big-time prospects Anthony Rendon and
Bryce Harper
to join the party.
Stephen Strasburg
,
Gio Gonzalez
and
Jordan Zimmermann
anchor the rotation while
Drew Storen
and
Tyler Clippard
are the back-end of the bullpen. That's a lot of youth
and
talent.
For more baseball news, rumors and analysis, follow @EyeOnBaseball on Twitter, subscribe to the RSS feed and "like" us on Facebook.