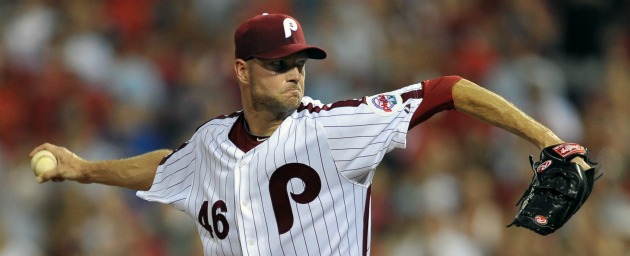 By C. Trent Rosecrans
Where will Ryan Madson end up? Angels general manager Jerry Dipoto says it's probably not going to be Anaheim.

FREE AGENT TRACKER
Dipoto, the first-year Angels GM told the Los Angeles Times that it's "very, very unlikely" the Angels would add Madson or any closer.
"What I'll say with some degree of certainty is that our most dignificant acquisitions have already been made," Dipoto said.
"We're trying to add depth, and in a perfect world, we'd like to find another guy to join Jordan Walden, Scott Downs and LaTroy Hawkins to help with those last nine outs. But closer has never been a real priority."

Of course, this could also be posturing by Dipoto.
Walden, 24, recorded 32 saves with a 2.98 ERA as a rookie in 2012. Walden made the All-Star team after starting the season with 20 saves and a 2.84 ERA in the first half. In the second half of the season, he had 12 saves and a 3.22 ERA. Walden struck out 10 batters per nine innings and 3.9 walks per nine. It had been rumored the team wanted to upgrade at the back of the bullpen.
And then there's Madson, who had 32 saves and a 2.37 ERA in his first season as the Phillies closer. Early in the offseason there was a report Madson had agreed to a deal with Philadelphia for four years and $44 million, but then the team signed Jonathan Papelbon instead.
There are few teams still looking for a closer, with the Reds being the team with the most glaring need. However, the Reds don't have the type of money to sign Madson to a huge deal. Cincinnati is currently in talks with incumbent reliever Francisco Cordero to bring him back on a one-year deal.
Madson could try to find a deal like the Yankees gave Rafael Soriano a year ago to be a high-priced set-up man -- even though that didn't exactly work out for the Yankees. Madson and Soriano are both represented by Scott Boras.
For more baseball news, rumors and analysis, follow @EyeOnBaseball on Twitter, subscribe to the RSS feed and "like" us on Facebook.