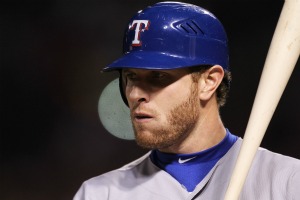 By C. Trent Rosecrans
Josh Hamilton's father-in-law, Michael Dean Chadwick, has been hired by the Rangers to be Hamilton's "accountability partner."
Johnny Narron had traveled with Hamilton, a recovering alcoholic and drug addict, since 2007 when Hamilton was a Rule 5 draft pick by the Reds. Narron stayed with Hamilton after the Reds fired manager Jerry Narron, Johnny's brother, during the 2007. Johnny Narron then went with Hamilton to Texas when he was traded after the season. Narron left the Rangers to become the Brewers' hitting coach last month.
Chadwick will not have any baseball-related duties, the team said. Chadwick had once served as the Washington Redskins' team chaplain and has also dealt with addiction problems himself.
"I think Josh is in a very different position today than when we acquired him in December, 2007," Rangers general manager Jon Daniels told the Dallas Morning News. "I think everyone agreed that when we traded for Josh, we thought Johnny was a real key hire. I think at that time, there was more unknown. We look at this as an important support position. … We've got such a unique clubhouse. Guys know Josh and respect Josh and they know what he has overcome. I think everybody who has been here has run across [Chadwick] and respects him, too. i don't anticipate this being an issue. Maybe if this was a less cohesive unit, but it is a very tight-knit group."
Hamilton having his own personal coach rubbed some members of the Reds the wrong way in 2007, but it apparently hasn't been as much of a problem in Texas.
For more baseball news, rumors and analysis, follow @EyeOnBaseball on Twitter, subscribe to the RSS feed and "like" us on Facebook.