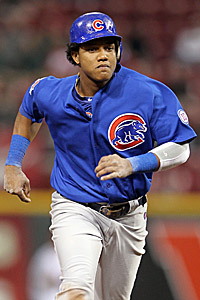 By Matt Snyder
Cubs
All-Star shortstop
Starlin Castro
has been accused of sexually assaulting a woman last fall,
according to CBS Chicago
.
The woman, reportedly in her 20s, said she was drinking with friends late last September when she and a friend left the bar and went to Castro's apartment at 3 a.m. She reportedly blacked out and then was allegedly being sexually assaulted by Castro when she came to. The police report, according to CBS Chicago, says the woman remembers screaming when she woke up at 5:30 a.m., yelled at Castro and left immediately. The alleged victim then filed a police report 12 hours later.
The Cubs have released the following statement:
"We are aware that a police report was filed regarding an incident involving Starlin, but we have received limited information. While this is something we take very seriously, there is not enough information to make any further comment or take action at this time. We are hopeful when the facts are brought to light, Starlin will be cleared of any wrongdoing."
Castro's attorneys have released the following statement:
"We are aware of certain allegations that have been made against our client, Starlin Castro. We have thoroughly investigated this matter, and we are confident that these allegations are baseless. Given the sensitive nature of this matter, we cannot comment any further."
Castro, 21, has yet to be interviewed by police because he flew back to his home in the Dominican Republic, as scheduled, the very day the accuser filed her police report -- which was September 29, the day after the Cubs' season ended.
For more baseball news, rumors and analysis, follow @EyeOnBaseball on Twitter, subscribe to the RSS feed and "like" us on Facebook.