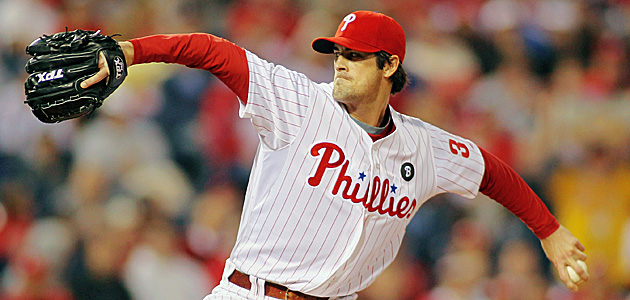 By Matt Snyder
The
Phillies
are focusing only on a one-year deal with left-handed starter
Cole Hamels
.
"We've had discussions with Cole," assistant general manager Scott Proefrock said during a TV appearance Tuesday night (
Philly.com
). "Right now, we're focused on a one-year deal."
Proefrock reportedly reiterated they were only focusing on avoiding arbitration with Hamels and nothing further.
On the surface, that doesn't sound like a huge deal. Hamels is eligible for arbitration, so he's not going anywhere this year. He'll pitch for the Phillies all of the 2012 season. But he will hit free agency once the season is concluded, and that could certainly be important.
Consider that
C.J. Wilson
signed a five-year, $77.5 million contract in free agency this winter.
Mark Buehrle
signed a four-year, $58 million contract of his own. Wilson is a 31-year-old lefty. Buehrle is a 32-year-old lefty. Hamels will be 29 next winter and he's better than both Wilson and Buehrle. Six years and nine figures sounds pretty reasonable for Hamels in comparison.
Also, Wilson and Buehrle signed in a winter where the following teams were not willing or able to spend big money on pitching:
Yankees
,
Red Sox
, Phillies,
Cubs
,
Dodgers
,
Mets
and a few others. And those two still landed big offers. Look ahead to next winter and the landscape is entirely different. The Yankees have about $50 million coming off the books before next season, and the Red Sox about $30 million. The Cubs right now only have just over $33 million committed to the 2013 payroll and could blow anyone out of the water, should they choose. And what if the Dodgers and/or Mets ownership situations are finally resolved? That's a lot of teams with a lot of money that could either drive the price through the roof or steal Hamels altogether.
Simply, the Phillies will face some deadly serious competition in trying to re-sign Hamels next winter. In fact, that could very well be the reason they haven't been able to come to terms with Hamels on an extension to this point. You know Hamels' agents are looking at that list of teams and licking their chops about the possible bidding war.
One factor that might help the Phillies in retaining Hamels -- in addition to the fact that up to this point he's continually said he wants to stay in Philly -- is that the starting pitching class next free agency period is very crowded. The following hurlers could be free agents, barring extensions or options being picked up:
Scott Baker
,
Matt Cain
,
Fausto Carmona
,
Jorge De La Rosa
,
Ryan Dempster
,
Gavin Floyd
,
Zack Greinke
,
Tim Hudson
,
Colby Lewis
,
Shaun Marcum
,
Brandon McCarthy
,
Anibal Sanchez
,
Ervin Santana
,
James Shields
and several more.
Then again, is there anyone on that list you'd rather have than Hamels? Not for me.
So while this little tidbit of the Phillies only focusing on one year doesn't seem huge right now, it could very well be enormous come the 2012 Winter Meetings.
For more baseball news, rumors and analysis, follow @EyeOnBaseball on Twitter, subscribe to the RSS feed and "like" us on Facebook.