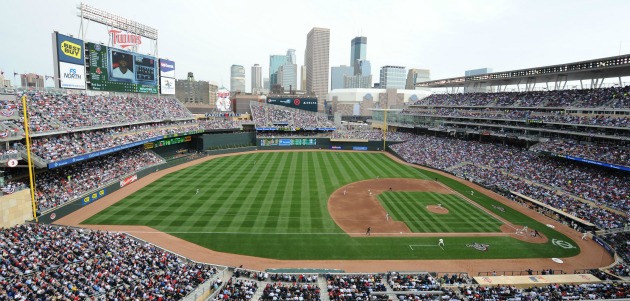 By C. Trent Rosecrans
Minneapolis' Target Field will host the 2014 All-Star Game, Bob Nightengale of USA Today tweeted.
The Mets' Citi Field, as long assumed, will host the 2013 game with the Twins' new park hosting in the next season, according to Nightengale. Major League Baseball has yet to announce the awarding of the 2013 game, but it will still be held in New York at the Mets' new park. That little detail is holding up the official announcement of the 2014 game, as well.

The Mets haven't hosted an All-Star Game since 1964. Commissioner Bud Selig has hinted strongly the Mets would get the 2013 game.
The Twins haven't hosted an All-Star Game since 1985 when it was played at the Metrodome. The Twins also hosted the 1965 game at Metropolitan Stadium.
The Cubs had also been rumored to have bid on the 2014 game to celebrate the centennial of Wrigley Field.
The National League and American League traditionally alternate hosting the game, but that tradition was broken in 2007 when the game was played in San Francisco (after being played in Pittsburgh in 2006) to accommodate the 2008 game to be held in the final season of old Yankee Stadium.
The Marlins and Rays are the only franchises to have never hosted the game, while the Nationals haven't hosted the game in the franchise's current home of Washington D.C., but the Expos hosted in 1982. Washington D.C. last hosted the game in 1969 when the current Rangers were the Washington Senators. The Padres, Phillies, Reds and Yankees haven't hosted the game at their current stadiums.
After the Mets host the All-Star Game in 2013, the Dodgers will become the franchise with the longest drought of hosting the game. The Dodgers haven't hosted the game since 1980.
The 2012 game will be held in Kansas City. That game was announced in June, 2010 -- roughly 25 months before the game was to be held. The 2013 game is 18 months away and it has yet to be announced. Last week the Sports Business Journal reported the hold up had nothing to do with the Mets ownership situation, but instead was the logistics of scheduling the event were making it difficult to make the game official. The 2008 game at Yankee Stadium was announced in January of 2007, as well.
For more baseball news, rumors and analysis, follow @EyeOnBaseball on Twitter, subscribe to the RSS feed and "like" us on Facebook.