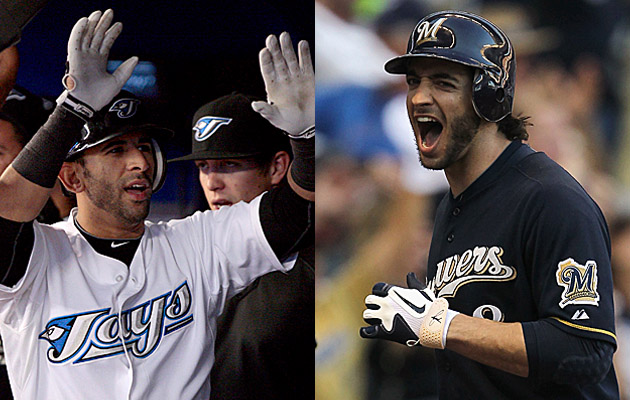 By Matt Snyder
As we continue the ongoing series of Would You Rather Have, we'll tackle a PED-themed version today. As every baseball fan surely knows by now,
Ryan Braun
failed a drug test and is facing a 50-game suspension for the beginning of the 2012 season, unless his appeal is upheld.
Jose Bautista
, on the other hand, has never failed an MLB drug test. However, I'd wager a hefty sum that if the Braun news first broke as "an unnamed All-Star slugger has tested positive for a banned substance" that the overwhelming majority of people would have guessed Bautista was the culprit.
In no uncertain terms, I think it's unfair how many people -- and it's not just fans, some media members are in on the witch hunt -- seem to believe that Bautista could not possibly get better at age 29 without having cheated. I've written about it multiple times (
like here
) but it drives me crazy. His body type hasn't changed one bit. Then again, neither has Braun's.
Whatever the case may be, that's why I connected these two superstar corner outfielders. Fair or not, one of these players has failed a drug test and the other has the suspicions of the majority of baseball fans. Since they are both big-time power hitters and play a corner outfield position, the debate works. Let's dive in.
The case for Bautista
Last year at this time many people believed the slugger's breakout campaign in 2010 was a fluke, but then Bautista went out and had an even better all-around season. He was once again punished for not playing on a team in contention in the MVP voting, finishing third. This time around it was much more egregious, considering the batting average and on-base percentage gains made. Bautista led the AL in home runs, walks, slugging percentage, OPS and Wins Above Replacement, Baseball-Reference.com version (he actually tied
Justin Verlander
there with 8.5). Bautista's 181 OPS-plus led the majors and is insane (if you aren't familiar with the stat, it's ballpark adjusted and means Bautista's OBP plus slugging percentage was 81 percent better than the league average).
Also impressive, Bautista walked more times than he struck out, an amazing feat for a slugger of his caliber.
Albert Pujols
regularly does it, but not many other power hitters ever do.
While neither outfielder here is going to approach a Fielding Bible Award any time soon -- both rate out poorly in advanced defensive metrics -- Bautista has a nice arm in right field, racking up 13 outfield assists in 116 games last season (he played 25 games at third). Using the eye test, too, I'd much rather have Bautista in the outfield than Braun.
Oh, and Bautista isn't facing a 50-game suspension.
The case for Braun
The 2011 NL MVP, Braun had a spectacular season with 33 homers, 111 RBI, 109 runs, 33 stolen bases and led the NL in slugging percentage and OPS. His OPS-plus was 166 and WAR was 7.7, for comparison's sake. Since winning the NL Rookie of the Year (after playing just 113 games) in 2007, Braun has been one of the best hitters in all of baseball.
Again, neither is a very good defender in terms of range or saving runs for his pitching staff, but one thing Braun does very well is not commit errors. He's only made six errors in the past four seasons
combined
. So while he won't get to as many balls as, say,
Brett Gardner
, Braun is sure-handed when he does.
If you wanna use age, Braun isn't that much younger than Bautista. He does have a three-year lead, as he turned 28 in November while Bautista turned 31 in October.
Our call
You can call me petty, but I'm going with Bautista until -- if ever -- he fails a drug test of his own. I'm pretty sure I would have leaned that way in October, but it would have been incredibly tough. That's irrelevant now, though, because Braun's name is tainted, even if temporarily, while Bautista's is not.
Vote away, and I have to say, I'm very interested to see how this one goes down. Lots of different issues in play, so let's hear those opinions. Please do keep in mind this is moving forward. Even if Braun misses 50 games this year, he's signed with the
Brewers
into his late 30s.
Fan Vote:
For more baseball news, rumors and analysis, follow @EyeOnBaseball on Twitter, subscribe to the RSS feed and "like" us on Facebook.