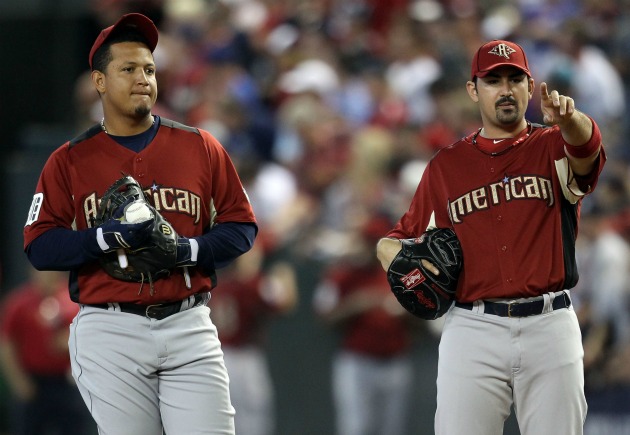 By C. Trent Rosecrans
You could argue we're living in the golden age of first basemen. Of the last 12 MVPs, five have gone to first baseman, and four different ones (
Albert Pujols
,
Joey Votto
,
Ryan Howard
and
Justin Morneau
), to boot. And that list doesn't even include
Prince Fielder
or either of the two first basemen we're looking at today -- Detroit's
Miguel Cabrera
and Boston's
Adrian Gonzalez
.
Both slugging first basemen are younger than 30 (at least until May, when Gonzalez hits the big 3-0) and both rose to the majors by the time they were 22, although Gonzalez didn't become a star until he was traded to San Diego in 2006, while Cabrera came up as a third baseman and outfielder and got MVP votes as a 20-year-old rookie. Now, though, both are among the game's best and expected to pick up an MVP any time now.
The case for Cabrera
This isn't too tough to make -- Cabrera won the American League batting title with a .344 average and also had the league's best on-base percentage (.448) for the second consecutive season. He also hit 30 homers and led the majors with 48 doubles. He has a career OPS+ of 149 and had a 181 OPS+ last season, better even than his league-leading 178 in 2010. Here's a guy who is 33 homers from 300 and has a lifetime slash line of .317/.395/.555. The guy's bat is just special.
The case for Gonzalez
A lot was expected of Gonzalez in his first season in Boston and it says something about his ability if his .338/.410/.548 season in his first year in a new league and in the toughest division in baseball was seen as something of a disappointment (but short of an MVP and World Series MVP, nothing was going to reach the lofty expectations of
Red Sox
fans coming into 2011). Gonzalez's 27 homers was his lowest total since 2006, his first full season in the big leagues, but he still led baseball with 213 hits and his 45 doubles ranked sixth in the league.
Not only is Gonzalez one of the best offensive players in the game, he's won four consecutive Gold Gloves, winning the award in both leagues.
As for the contract status, both players are more than fairly compensated, with Cabrera due to make $86 million over the next four seasons and Gonzalez signed through the 2018 season for a cool $154 million.
Our call
While Gonzalez is a very good player, Cabrera has the chance to be an all-time great. Gonzalez has better defense, but we're talking first base here, not shortstop. There would be some worry about Cabrera's off-the-field problems, but he's bounced back from those and he's never played less than 150 games since becoming a regular as a 21-year-old in 2004. He's the choice, no matter if he's a first baseman or a DH, because his bat is just that good.
Fan Vote:
Would you rather have Cabrera or Gonzalez on your favorite team?
For more baseball news, rumors and analysis, follow @EyeOnBaseball on Twitter, subscribe to the RSS feed and "like" us on Facebook.