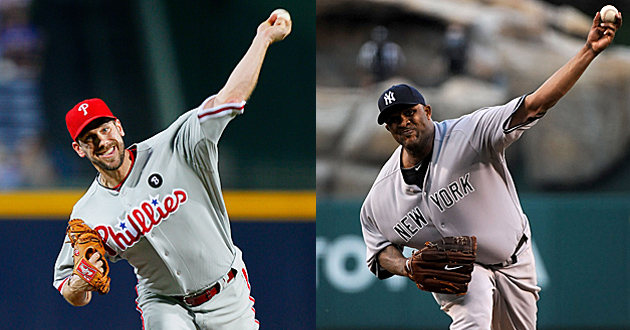 By Matt Snyder
For the latest installement of this offseason series, let's match up two left-handers who used to be teammates. It's
CC Sabathia
of the
Yankees
against
Cliff Lee
of the
Phillies
. Both are north of 30 years of age yet still elite pitchers. And both are very handsomely compensated for their skills.
Each player has won one Cy Young ... for the
Indians
. They were together in Cleveland from 2002 until about midway through the 2007 season. The Indians ended up with the following players after trading these two aces (yes, I know
Roy Halladay
is technically the Phillies' ace, but Lee is ace-caliber):
Matt LaPorta
,
Zach Jackson
, Rob Bryson,
Michael Brantley
,
Carlos Carrasco
,
Jason Donald
and
Lou Marson
.
As an aside, I'll admit that I had a hearty chuckle in putting this one together. There aren't many things better to observe than New York and Philadelphia fans hurling insults at one another.
That being said, this is an obviously tough and very legitimate question. Let's dive in.
The case for Lee
At the age of 29, Cliff Lee turned his entire career around. He's now an elite pitcher. He was 22-3 with a 2.54 ERA and 1.11 WHIP in 2008, en route to a Cy Young award. The next two seasons he had four different zip codes, but was still far above average. In 2011, however, he finally found a home and was back as a Cy Young contender.
For the Phillies in 2011, Lee went 17-8 with a 2.40 ERA, 1.03 WHIP and 238 strikeouts in 232 2/3 innings. Perhaps more impressive, however, were his six complete games -- all of which were shutouts, a figure that led the majors. Amazingly, his 42 walks actually marked a regression from the 18 in 2010, but it just goes to show how good Lee's control is.
And then we have the postseason. Lee is 7-3 with a 2.52 ERA, 0.93 WHIP and 89 strikeouts in 82 career playoff innings. He has owned the mighty Yankees in three career playoff starts against them. Sabathia, meanwhile, has a 4.81 ERA and 1.62 WHIP in 86 career postseason innings.
Finally, we cannot discount size here. I think the people who go after Sabathia for being "fat" or "out of shape" are misguided -- he's not small, but he's as durable as anyone -- but as the two pitchers get into their mid-30s, I think it would be naive to ignore the possibility that Lee will age much better.
The case for Sabathia
Carsten Charles Sabathia has proven himself one of the biggest workhorses in baseball for the past five seasons. It would be unheard of to expect 240 innings in a season from most pitchers in the majors, but that is Sabathia's
average
from 2007-2011. There is no pitcher in baseball who better places the burden of carrying the entire pitching staff than Sabathia.
He gets the job done in numbers, too. He has five straight top five finishes in Cy Young voting. Last season, the big man went 19-8 with a 3.00 ERA, 1.23 WHIP and 230 strikeouts in 237 1/3 innings. He was also tasked with facing the rugged AL East in one of the best hitters' parks in the majors (Citizens Bank Park in Philadelphia is also a hitters' park, but not near as drastic as Yankee Stadium).
The salaries -- which are gigantic -- are a wash.
Sabathia is 31 while Lee is 33, so the age tips the scale slightly in Sabathia's favor.
Our call
This is one of my toughest selections -- they had an indentical 6.9 bWAR last season -- but it's going to be Lee. While Sabathia is younger and has a longer track record of success, Lee has been a bigger shut-down pitcher, especially in the postseason. Now that he's found a long-term home, I expect that to continue.
Fan Vote:
For more baseball news, rumors and analysis, follow @EyeOnBaseball on Twitter, subscribe to the RSS feed and "like" us on Facebook.