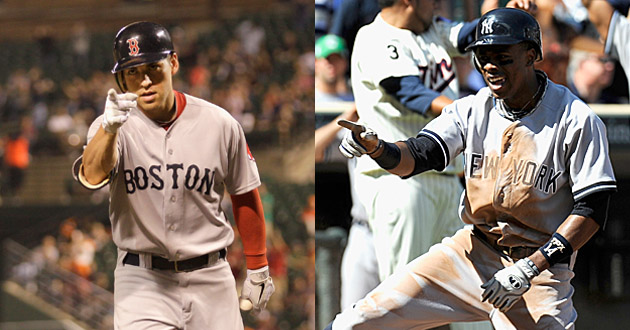 By Matt Snyder
So here we are, the final entry in our series. For those who have enjoyed the series and taken part in the discussion, we thank you. For those who hate fun, remember to kick and scream about how it's absurd to "compare" the two when someone asks you if you would rather eat Mexican or Chinese food.
Anyway, we'll close the series with a meeting between MLB's two biggest rivals of the past decade. Maybe
Rangers
-Angels or something else supplants the
Yankees
-Red Sox intensity/hatred moving forward, but what we've seen in the recent past isn't paralleled.
So we'll check out the respective left-handed center fielders who each placed in the top four of AL MVP voting last season. Yes, it's
Curtis Granderson
vs.
Jacoby Ellsbury
.
The case for Granderson
We've known Granderson could play for a while. Back in 2007, he had an insane stat-filling season, with 122 runs, 38 doubles, 23 triples, 23 homers and 26 stolen bases while hitting .302 with a .913 OPS. In 2009, however, his average dipped all the way down to .249 and, despite hitting 30 home runs, his inability to hit left-handers became a huge problem.
Now, we know that Granderson hit 41 homers last season while driving home 119 and scoring 136. But it's a myth that this power surge came from out of nowhere. He made major adjustments to his swing in August of 2010 and started the heavy hitting before that season ended. In the last 46 games of '10, Granderson hit 14 home runs, which prorates to a pace of 49 in a 162-game season.
In addition to that, he's cured his woes against lefties. In fact, Granderson hit for better rate stats against left-handers (.272/.347/.597) than against righties (.258/.372/.531) in 2011.
Also, if you wanna whine about Yankee Stadium being friendly to left-handed hitters -- which, yes, it is -- please at least note that Granderson hit 21 home runs at home and 20 on the road last year.
Finally, durability is in Granderson's favor. From 2006-11 he averaged 152 games per season while Ellsbury only played 18 games in all of 2010.
The case for Ellsbury
After a lost 2010 season, Ellsbury ended up being perhaps the best offensive player in the American League in 2011. He led the majors with 364 total bases while hitting .321/.376/.552 with 32 homers, 105 RBI, 119 runs, 46 doubles and 39 stolen bases. This guy was a fantasy baseball players' dream last season.
Similar to Granderson, Ellsbury has to fight the stigma that his power surge was either a fluke or "came from out of nowhere." With Ellsbury it pretty much did, though. He only hit 10 career home runs in 259 minor-league games. He entered 2011 with 20 home runs in 1,510 big-league plate appearances. The explanation is that Ellsbury's home runs per fly ball went all the way up to 16.7 percent. That's a large figure for a guy his size, but it's certainly possible he developed power while in the majors. He wouldn't be the first guy to do so.
Ellsbury also took home the Gold Glove in center, while most advanced defensive metrics scored him as one of the very best defensive players in baseball.
Age is in Ellsbury's favor, too, though it's not near as big a deal as one might think. Ellsbury turned 28 in September while Granderson will turn 31 in March. So it's a difference of 2 1/2 years.
Our call
I believe it comes down to if you believe Ellsbury's power in 2011 was real. He's superior everywhere else, but power was a huge reason Ellsbury had a far better WAR than Granderson in '11 and finished higher in MVP voting despite the
Red Sox
's collapse. Next year at this time it will be a much easier answer, but for now I'm rolling the dice and going Ellsbury.
Fan Vote:
For more baseball news, rumors and analysis, follow @EyeOnBaseball on Twitter, subscribe to the RSS feed and "like" us on Facebook.