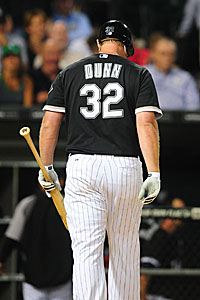 By Matt Snyder
Earlier this week, maligned
White Sox
(former?) slugger
Adam Dunn
told the
Chicago Sun-Times
that everything he'd done previously in his career was
"discredited by one stupid year."
And what a stupid year it is. Gloriously stupid.
Dunn hit just .159 with a .292 OPS and 11 home runs. He struck out 177 times in 415 at-bats, an amazingly futile frequency of one strikeout per every 2.3 at-bats. Dunn's always had contact issues, but never this drastic, and he was always productive. We're talking about a player whose average season from 2004-2010 was .253/.381/.533 with 40 home runs, 101 RBI and 94 runs in 158 games. Yes, for seven seasons, Dunn
averaged
40 bombs a year while getting on base more than 38 percent of the time. And all of a sudden, from out of nowhere at the age of 31, Dunn just fell apart.
And the White Sox owe him $44 million over the next three seasons.
Fortunately for the White Sox and their fans, there should only be one way to go. Dunn can't possibly be any worse than he was last year, right? Dunn, for his part, appears to be doing a lot this offseason to get things back on track.
The
Chicago Tribune
reported Saturday that Dunn appeared
"much leaner around his mid-section"
at SoxFest this weekend. He's reportedly worked hard this offseason on strengthening his core.
"I feel good," Dunn said (
Tribune
). "I don't know, I don't weigh myself every morning. But I feel good and still got a month to go (before spring training)."
"Hopefully I'm going in this year feeling as good as I've felt in a long time and just ready to get started and quit talking about it every (time). It doesn't matter where you go, everyone is talking about it. I realize that comes with that, but I really can't wait for opening day."
The "it" that everyone is talking about it presumably the aforementioned "stupid season." He's obviously trying to put it behind him.
The offseason was probably the only way Dunn was going to get fixed. A funk like he had last season begins to mentally destroy a player in the batter's box. He just needed a break and obviously has worked harder this offseason than last. Time will tell if it makes a difference as Dunn heads into the 2012 season as one of the most stigmatized players in baseball, but the report that he's much leaner shows he's serious.
For more baseball news, rumors and analysis, follow @EyeOnBaseball on Twitter, subscribe to the RSS feed and "like" us on Facebook.