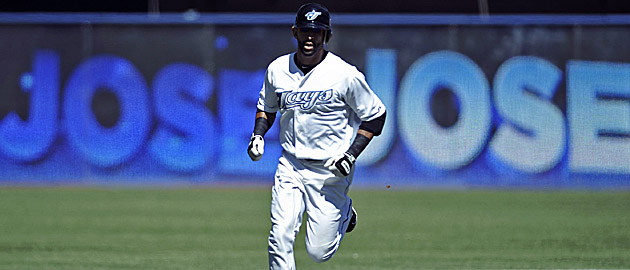 By Matt Snyder
Major League Baseball has "random" drug testing on its players, but
Jose Bautista
has seen a drastic increase in testing the past two seasons. Bautista had never hit more than 16 homers in a season until he hit 54 in 2010 and then 43 in 2011. There's a group of fans and media who seem to think the only possible way to make that kind of jump is to take some form of illicit "supplement." It could be a coincidence, but Bautista's testing has increased along with his home run totals.
On TSN 1050 radio, Bautista estimated he's been tested 16 times in the past two seasons (via
TSN.com
). But don't get all worked up about it,
Blue Jays
fans and Bautista supporters, because he's cool with it.
"It has increased in the last two years compared to before but I'm not complaining whatsoever. It's a question that I was asked so I gave an honest answer. It's not in my interest to make it seem like I'm getting picked on."
More:
"I don't mind it; it's something that is not going to affect my focus and I'm not going to allow it to affect how I play my game," Bautista said. "They are entitled to do whatever they want and test you as many times as they want. If I get picked to be tested a million times, that's fine with me."
I've emphatically
supported Bautista against the small-minded haters
the past two seasons and these comments make me dig my heels in even further.
It should be noted that it's entirely possible random testing causes sporadic testing, meaning you could be tested zero times one season and 20 the next -- like flipping a coin and having heads turn up 20 times in a row -- so I'm not trying to accuse the MLB of anything nefarious. For me, the most important takeaway here is the fact that Bautista basically says "bring it on" and has passed all these tests.
Hat-tip:
Hardball Talk
For more baseball news, rumors and analysis, follow @EyeOnBaseball on Twitter, subscribe to the RSS feed and "like" us on Facebook.