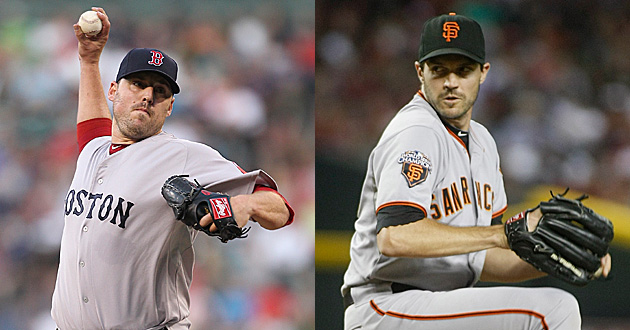 By Matt Snyder
As we conclude the short series on overpaid players, we'll take a look at the man on the hill: The pitcher.
The interesting thing I found about pitchers is that not too many "long-term" contracts stood out like a sore thumb as being bad in terms of what is left on the current deal. A lot of the honorable mention types are for just one year, maybe two. This, I believe, illustrates the caution the overwhelming majority of teams exercise when coughing up long-term deals for pitchers.
That doesn't mean there are no guys on the list, however. We have a couple really good fits.
As a reminder, we're only talking about the contracts from now until the conclusion of the deal. Any money already banked doesn't count in this exercise.
Right-handed starters
Worst:
John Lackey
Remaining contract:
3 years, $47.85 million
Ignore that Lackey is injured now and will miss all of the 2012 season. In fact, that actually helps the
Red Sox
here if last season was any indication. Lackey was brutal in '11, putting together a 6.41 ERA, 1.62 WHIP while leading the majors in earned runs and wild pitches. He allowed a whopping 203 hits in his 160 innings pitched and posted a negative WAR (Wins Above Replacement player). And when he's healthy again, he'll be 34.
Honorable Mention

A.J. Burnett
,
Yankees
: He helped the Yankees win the World Series title in 2009, but was he really integral? He was bad in the ALCS and was terrible in one of his World Series starts after leading the league in walks and wild pitches during the regular season. Since then, Burnett is 21-26 with a 5.20 ERA and 1.47 WHIP. He's now the Yankees' fifth starter and will make $33 million for the next two seasons.
"Fausto Carmona,"
Indians
: He may miss the season after being caught for identity fraud (his name is actually Roberto Hernandez Heredia). He's due $7 million this season.
Jake Peavy
,
White Sox
: It's hard to not appreciate the way Peavy is an absolute bulldog on the hill, but he was 7-7 with a 4.92 ERA last season as he battled back from a severe injury and he's set to make $17 million in 2012.
Jake Westbrook
,
Cardinals
: Twelve starts in 2010 got Westbrook a two-year deal with the Cardinals. He's going to make $8.5 million this season after a pretty bad 2011 campaign.
Carlos Zambrano
,
Cubs
/Marlins: He'll make $19 million this year, but the Cubs are paying most of it so Big Z can pitch for the
Marlins
.
Derek Lowe
,
Braves
/Indians: He'll make $15 million this year, but the Braves are paying most of it so Lowe can pitch for the Indians.
Left-handed starters
Worst:
Barry Zito
Remaining contract:
2 years, $39 million
Perhaps the worst news is there's actually a club option for 2014. Now, obviously the
Giants
won't pick that up, barring Zito becoming
Tim Lincecum
overnight, but there's a $7 million buyout if they don't pick up the option. So Zito will cost the Giants $47 million more, at the very least, before they can wash their hands of him. This actually has to be one of the worst contracts of all time. Zito is 43-61 with a 4.55 ERA, 1.41 WHIP and zero postseason innings pitched in his five seasons with the Giants.
Honorable Mention
Johan Santana
,
Mets
: He was earning his deal pre-injury, so this one isn't really anyone's fault. Santana is due $49.5 million for the next two seasons, though, so that is rough.
Relievers

Worst:
Rafael Soriano
Remaining contract: 2 years, $25 million
Soriano wasn't even the Yankees' best setup man last season (
David Robertson
was way better). Soriano was a stud in Tampa Bay in '10, so it's possible he's a great closer for the Yankees in 2013, if
Mariano Rivera
retires. But even when Soriano had a good second half last season, his numbers weren't awesome. And, again, we're talking about a non-closer making eight figures per season.
Honorable Mention
Jonathan Papelbon
,
Phillies
: It will be interesting to see how Papelbon performs throughout this contract. He could very well earn his $50 million over the course of the next four years, but I'm wondering what the Phillies' front office thought when they saw that the
Reds
signed 2011 Philly closer
Ryan Madson
to a one-year, $8.5 million deal. I also wonder how this deal will feel if the Phillies can't find a way to lock up
Cole Hamels
long-term (he's a free agent next offseason). So this one has less to do with Papelbon and more to do with what the deal might end up costing the Phillies, because $50 million is an awful lot to give to a closer.
Brandon Lyon
,
Astros
: Lyon will make $5.5 million this season. His 2011 season was cut short due to an injury, but he had an 11.48 ERA with as many blown saves as actual saves (four).
---
Part I:
Infielders and catchers
Part II:
Outfielders and designated hitters
Source for all figures was Cot's Baseball Contracts
For more baseball news, rumors and analysis, follow @EyeOnBaseball on Twitter, subscribe to the RSS feed and "like" us on Facebook.