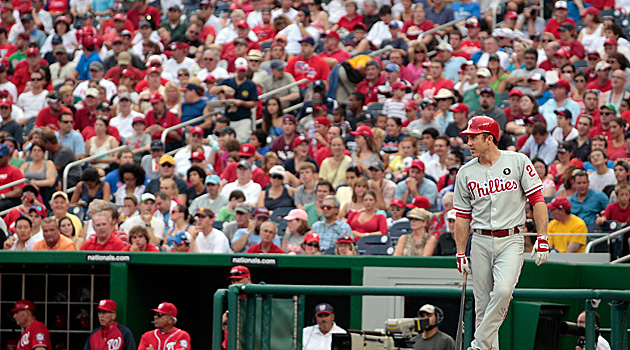 By Matt Snyder
The Washington
Nationals
' front office is tired of seeing
Phillies
fans take over their ballpark when Washington hosts the Phillies, so they're trying to do something about it.
In an effort they're calling "Take Back the Park," the Nationals are making it as difficult as possible for Phillies fans to outnumber Nationals fans in the May 4-6 series. Beginning today (Friday morning), the Nationals are offering single-game tickets for the series -- and only this particular series -- even though other single-game tickets won't be for sale for another month. Not only that, only buyers with credit cards tied to an address in Maryland, Virginia or the District of Columbia will be allowed to buy tickets (all information from
WashingtonPost.com
).
The Nats mean business. Not only on the field, where they've had a good offseason and appear to be a legitimate contender in the loaded NL East. But check out this series of quotes from COO Andy Feffer,
all via WashingtonPost.com
:
• "Frankly, I was tired of seeing it. Forget you, Philly. This is our park, this is our town, these are our fans, and it's our time right now."
• "We've heard it enough, we've seen it enough, and I don't like it any more than anyone else. We're trying to build a team here, and nothing irks me personally or the people here more than to see another team's fans — particularly Philly fans — in our ballpark, holding up signs. That's not the way it should be. And I think we've got an opportunity here to do something different."
• "We've got some other things planned for the Phillies. Don't expect their buses to be hanging out and dropping off their fans right around the ballpark here. I'm gonna stick 'em across the river if I can, make 'em swim across." [Note: The Post noted this was said as a joke]
• "Seriously, for those fans who do come, we treat all guests with respect and courtesy. But look, we're not gonna make it easy for group sales, for buses coming from Philly. I will not make it easy for those guys to buy tickets or get into this ballpark. Once they're here, obviously we treat all our guests as patrons, with respect."
• "Look, this is what a rivalry's about. The Phillies and Nationals should be that rivalry that people get fired up about, and that's ok. I want Phillies fans to acknowledge that we're a legitimate contender and that we're for real. And you know what? If Phillies fans are a little bit irked, that means they're paying attention."
Whoa. Breaking out the big guns, eh, Nationals? I have to say, I love it. Old, traditional rivalries are great (
Yankees
/Red Sox,
Cubs
/Cardinals,
Dodgers
/Giants, etc.), but it's even more exciting to see new rivalries emerge. What if the Nationals are a contender this year and we see them lock horns with the Phillies a few times? That's great for baseball.
So what say you, Phillies fans? Are you "irked" and "paying attention" to the Nationals yet?
For more baseball news, rumors and analysis, follow @EyeOnBaseball on Twitter, subscribe to the RSS feed and "like" us on Facebook.