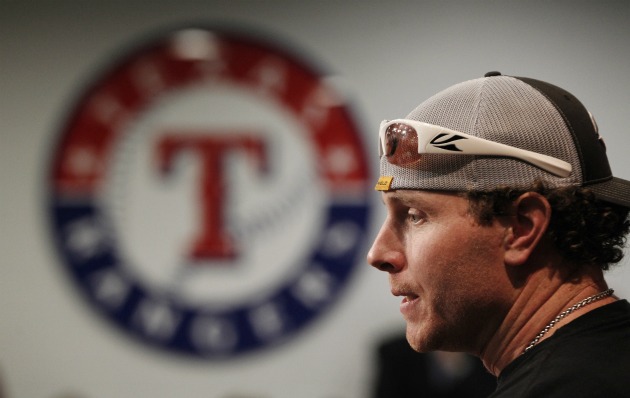 Posted by Eye on Baseball
First off, the
Rangers
don't want Shayne Kelley to be called
Josh Hamilton
's "accountability coach" -- Kelley is a "Major League staff assistant" with more or less one player to coach.
The Rangers hired the former
Royals
minor-league strength assistant on Tuesday, but general manager Jon Daniels made sure to dismiss the term previously applied to Johnny Narron and, briefly, Michael Dean Chadwick, Hamilton's father-in-law.
"I don't know where that [term] came from … Josh is accountable for himself,"
Daniels told MLB.com
. "Our aim is to support him and put him in a position to succeed. If you hire an interpreter for somebody, the guy is still responsible for what he says. Josh is still accountable for himself."
Narron, the brother of
Brewers
bench coach Jerry Narron, had been by Hamilton's side since 2007, when Hamilton joined the
Reds
' organization -- and stayed with him even after his brother, Jerry, was fired as the team's manager. When Hamilton was traded to Texas, Narron went too. However, Narron left his job with the Rangers in November to become the Brewers hitting coach. Chadwick was hired in January, but backed out of the position less than two weeks later.
While without an aide or whatever else it is they want to call it, Hamilton had a relapse with alcohol. Hamilton is an admitted drug and alcohol addict. After his relapse became public, Hamilton met with doctors from Major League Baseball and the MLB Players Association,
according to the Fort Worth Star-Telegram
. Kelley was also along for the meeting, according to the newspaper. MLB hasn't decided if Hamilton will face disciplinary action from the relapse, which could be deemed a violation of his previous terms of reinstatement from previous suspensions. Daniels said he expected any such discipline "unlikely."
Kelley spent last season as a high school baseball coach, but has served as an assistant at Samford and Jacksonville State in Alabama. He was an assistant coach and team chaplain for the University of Alabama from 1996-99 and then served in Kansas City's minor-league system as a strength and conditioning coach for three years.
Hamilton had no previous relationship with Kelley, who came recommended by Hamilton's agent, Michael Moye, and Rangers vice-president Chuck Morgan, whose son was at Alabama with Kelley. Daniels said Kelley will have duties with the rest of the team in addition to Hamilton.
For more baseball news, rumors and analysis, follow @EyeOnBaseball on Twitter, subscribe to the RSS feed and "like" us on Facebook.