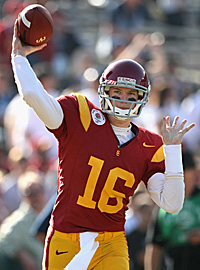 By Matt Snyder
The Chicago
White Sox
have signed Mitch Mustain to a minor-league contract as a pitcher, according to the Associated Press. In other words, the dude who started for USC against Notre Dame in football during the 2010 season is now in the White Sox organization.
In and of itself, a football player signing as a baseball player isn't altogether that shocking. Just to piggyback on the Notre Dame mention above combined with the Chicago angle,
Cubs
reliever
Jeff Samardzija
was a wideout for the Fighting Irish. And my colleague C. Trent Rosecrans posted about
how many NFLers tried their hands at baseball this past weekend
.
But Mustain's case is interesting, odd and kind of funny.
Like, for example, the fact that he hasn't pitched since he was a sophomore in high school. Yes, back in the spring of 2004 --
eight years ago!
Since then, Mustain has been a quarterback for Arkansas, a quarterback for USC, a quarterback for the Hamilton Tiger-Cats (CFL) and then signed with the Georgia Force (Arena Football League).
So how did this come together? Apparently Mustain has a friend who played in the White Sox organization who arranged for a scout to watch Mustain pitch at the University of Arkansas.
Next, from LATimes.com
:
"He hit me up on a Friday and said the scout could be here the next Friday," Mustain said. "So I went out on Tuesday and played long toss to stretch out my arm."

A few days later, he was on the mound in tennis shoes touching 90 mph on the radar gun.

"I was hitting my spots and my curve ball was on," he said.

The 6-foot-2, 220-pound Mustain signed a contract this week and the White Sox sent him a throwing program the next day.

"I'm hoping to eventually get to 94 or 95 [miles per hour]," he said. "I'm excited to see where it goes."
Now, the White Sox are an easy target here. After all, their farm system is ranked near the bottom by everyone who does that sort of thing -- several, like
ESPN.com's Keith Law,
rank it dead last. But this couldn't possibly have less risk. They likely aren't counting on much from him and if anything develops, it's gravy.
Still, the biggest takeaway of this news is that the White Sox just signed a guy who hasn't thrown an organized pitch since he was facing high schoolers in 2004. Even White Sox fans would have to admit, that just sounds funny.
For more baseball news, rumors and analysis, follow @EyeOnBaseball on Twitter, subscribe to the RSS feed and "like" us on Facebook.