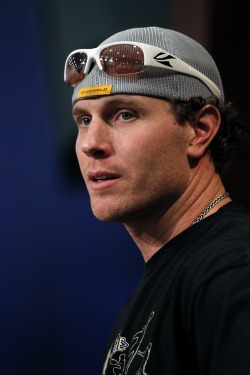 By C. Trent Rosecrans
For the first time since his relapse,
Rangers
outfielder
Josh Hamilton
answered questions on Wednesday, speaking with his Pastor, Dr. James Robison, on GBTV.com, the online home of right-wing political commentator Glenn Beck.
Hamilton said he was undergoing a "Josh Hamilton makeover," going to "one-on-one" counseling, as well as counseling sessions with his wife, Katie.
"I'm doing good. I'm well, my family's well. We're taking this as a serious issue," Hamilton said. "I had a slip-up in '09 and moving past that, it was, 'OK, I'm fine. It was one night, everything's over.' We didn't really move back towards what cause me to slip-up, why did I all of a sudden choose to do this? And it happened again.
"This time, it's not just, 'OK, it happened, we'll move past it and maybe it won't happen again.' We want to find out why it continues to happen. It's not on a regular basis, but whether it's things in my life, whether it's stress or home things, or whatever the case may be, those things might be a trigger."
Hamilton said his faith will be the focus of the makeover.
"It's going to be a process," Hamilton said. "I'm not fixed. I'm doing things right a day at a time. I can always use prayer from people."
He spoke about his relationship with his wife and daughters, and that he was concentrating on communicating with them better. He said that's improved since his relapse.
"It has been a special time," Hamilton said. "The communication the last one-and-a-half weeks has been more than there has been in the past eight years. I'm not saying I haven't been communicating but it has been more meaningful communication."
He didn't shy from taking responsibility or having to live in the public eye.
"Thank you to everyone who has been supporting me," Hamilton said. "You guys know my heart, and I think you sense that. Me, personally, I'm going to do everything I can do to break these walls down and become a better man, a role model, and someone your little ones can to and want to strive to be like one day -- a man who is not perfect, but admits to his mistakes and wants to get better."
Here's the entire interview:
For more baseball news, rumors and analysis, follow @EyeOnBaseball on Twitter, subscribe to the RSS feed and "like" us on Facebook.