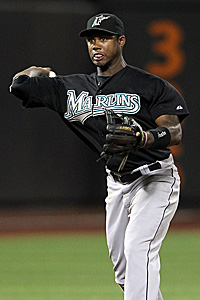 By Matt Snyder
Thankfully, we're getting very close to putting this
Hanley Ramirez
-moving-to-third drama to bed. Earlier this week,
Marlins
manager
Ozzie Guillen said Ramirez wasn't "100 percent"
OK with the move, which is being made to accomodate
Jose Reyes
at shortstop. Guillen did say he felt Ramirez would be fine by opening day and that he thought any star wouldn't immediately be happy with changing positions.
It would appear Guillen was correct, as Ramirez now sounds completely on board with a move, seemingly in reaction to an opinion piece from a newspaper.
Responding to a
column from a Dominican newspaper ("Hoy")
where the writer said Ramirez's friendship with Reyes will inevitably be damaged -- in addition to claiming the Marlins signed Reyes to give them an excuse to rid themselves of an "immature" Ramirez -- Ramirez took to Twitter.
"Folks, via this medium I want to let everyone know that what came out in the newspaper Hoy about me, the team and Guillen is a lie," Ramirez tweeted (in spanish, but translated by
SunSentinel.com
).
More: "And now what are you going to talk about if the whole world knows I'm going to play third base with the Marlins." (in spanish, but translated by
SunSentinel.com
)
More: "Trying to soil my image with lies. Third base with the Marlins forever baby." (in spanish, but translated by
SunSentinel.com
)
Finally, Ramirez tweeted
a picture of himself sitting next to Reyes with both men smiling
. I'm kind of surprised they weren't hugging.
It's good that Ramirez is embracing his move to third base, as well he should. It's the professional thing to do, and frankly, it will benefit him defensively. But in regards to him being angry people are talking about it, he needs to realize his manager is the one who fanned the flames earlier this week.
But now we know: Hanley Ramirez is happy and ready to play. So we can all move on.
For more baseball news, rumors and analysis, follow @EyeOnBaseball on Twitter, subscribe to the RSS feed and "like" us on Facebook.