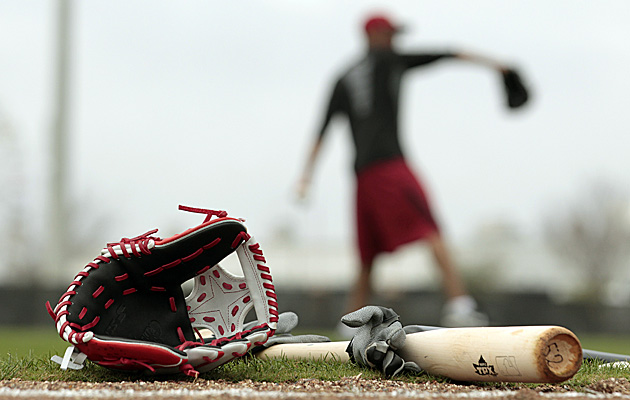 By Matt Snyder
Come Monday, just two days from now, every single team will have pitchers and catchers in big-league camp. Ten clubs --
Orioles
,
Twins
,
Phillies
,
Pirates
,
Cardinals
,
Angels
,
Cubs
,
Reds
, A's and
Giants
-- have their pitchers and catchers report Sunday.
Soak it in, fans. The far-too-long wait is over. No more do we have to yearn for the season while chasing
Yu Darvish
or Yoenis Cespedes or
Prince Fielder
rumors. Instead, the actual season is closer than the horizon.
When spring training opens for baseball teams, it's the fan version of New Year's Day. Feel free to make baseball fan versions of resolutions, and don't you dare let anyone tell you it's not possible. After all, what would opposing fans have said to a
Diamondbacks
fan last year at this time if he dared to have the audacity to predict an NL West title?
It's the time for optimism, no matter which team you love. So let's fan the flames. Here's an optimistic -- overly optimistic in some cases -- one-liner on every team that fans of said team can eat up with a spoon. And don't forget to
bookmark our spring training landing page
while we're at it.
This is the year for the (insert team) because ...
Diamondbacks:
Last year was just the beginning. This is a young nucleus just beginning to come into its own. The sky is the limit.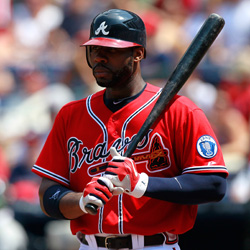 Braves:
Jason Heyward
will come into form, giving a gigantic offensive boost and the
Kimbrel-Venters duo in the bullpen won't wear down this time around
. And the starting pitching depth and talent is insane.
Cubs:
There's new management, a new attitude, a new culture and the locker room is finally freed from the
Carlos Zambrano
albatross.
Orioles:
They have pitching depth and catcher
Matt Wieters
is poised for a huge breakout season to spur the sneaky-talented offense.
White Sox:
Adam Dunn
,
Alex Rios
and
Jake Peavy
will all have huge bounce-back seasons while
Matt Thornton
finally settles in as closer.
Red Sox:
Last September was a fluke, but also a wakeup call. And
Daniel Bard
proves a solid starting pitcher, as opposed to the man he's replacing (
John Lackey
).
Reds:
No Pujols, no Prince, no Braun (for 50 games)? No problem in the Central for the Reds, who have a pair of aces --
Mat Latos
and
Johnny Cueto
-- with a solid, young offense and good defense.
Tigers:
Prince. Cabrera. Verlander. Enough said.
Indians:
Ubaldo Jimenez
returns to ace form, just as
Grady Sizemore
plays like he did five years ago.
Shin-Soo Choo
gets back to his old ways while the youngsters (
Jason Kipnis
,
Lonnie Chisenhall
, etc.) come into their own.
Marlins:
They had the best offseason of any NL club, so why not the best regular season?
Rockies:
Michael Cuddyer
and
Marco Scutaro
moving to Coors Field will be huge, just as the continued growth of
Dexter Fowler
will be. And
Ramon Hernandez
working with that young pitching staff -- bolstered by the great Ubaldo trade, which landed
Alex White
and
Drew Pomeranz
-- is even better.
Astros:
It's the last year in the National League, so they have a going away present -- courtesy of their new owner and GM. And they're keeping the name Astros!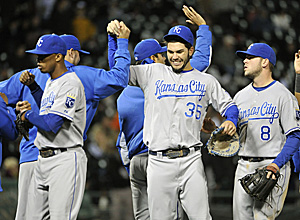 Royals:
No need to wait until 2013. The young lineup (
Alex Gordon
,
Johnny Giavotella
,
Eric Hosmer
,
Billy Butler
,
Mike Moustakas
,
Salvador Perez
,
Lorenzo Cain
, etc.) is ready to take over the AL Central while starter
Jonathan Sanchez
thrives with his change of scenery.
Twins:
Injury-free this season and they're home-free.
Joe Mauer
and
Justin Morneau
party like it's 2009.
Angels:
Albert Pujols
makes the offense as dangerous as any, and who wants to face that playoff rotation (
Jered Weaver
,
Dan Haren
,
C.J. Wilson
,
Ervin Santana
) in October?
Mets:
Ike Davis
and
Johan Santana
return healthy while the likes of
Jason Bay
and
David Wright
thrive with the new dimensions of Citi Field.
Dodgers:
There are plenty of supporting pieces (
Dee Gordon
,
Andre Ethier
,
James Loney
,
Ted Lilly
,
Aaron Harang
, etc.) to superstars
Matt Kemp
,
Clayton Kershaw
and a studly 1-2 punch at the back-end of the bullpen in
Kenley Jansen
and
Javy Guerra
.
Yankees:
Enough talk. Time for No. 28.
Brewers:
Ryan Braun
's appeal will be upheld and the club won't miss a beat without Prince Fielder chasing the dollars, as
Aramis Ramirez
and
Mat Gamel
step up.
Phillies:
One fluky playoff series doesn't change the fact that the Phillies were the best team last season. This year they don't fall short.
Athletics:
Billy Beane's makeover pays off early, as the likes of
Brad Peacock
, Tom Milone and
Jarrod Parker
thrive while Yoenis Cespedes does his Bo Jackson impression all summer, jumpstarting the formerly stagnant offense.
Pirates:
The division is much weaker and the Pirates are ready to strike, with
A.J. Burnett
's change of scenery and
Erik Bedard
's health. The young offense is as exciting as ever, too, with
Jose Tabata
and
Alex Presley
setting up for
Andrew McCutchen
and
Neil Walker
.
Padres:
Carlos Quentin
and
Yonder Alonso
bring punch to a once-punchless offense while the pitching staff enjoys the fruits of Petco Park.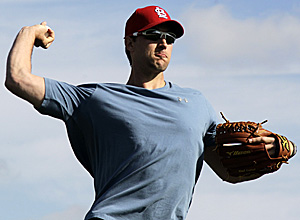 Cardinals:
Albert who? The Cardinals are bigger than one man. The offense will be just fine with
Carlos Beltran
,
Lance Berkman
and
Matt Holliday
in the middle while the pitching staff gets back
Adam Wainwright
(ever heard of him?).
Giants:
Buster Posey
is back,
Brandon Belt
is ready and the outfield has a new
Melky Cabrera
/Angel Pagan combo -- all of which boost the offense. And you know the pitching is fine. Two titles in three years?
Rays:
Compare last year's roster to this year's. The latter is much better already, so they won't need a miracle comeback in September.
Mariners:
They finally have some offense, with young
Dustin Ackley
and
Jesus Montero
leading the way.
Blue Jays:
The bullpen is fixed -- you know, the one that allowed 25 blown saves last year on an 81-81 team.
Rangers:
Third time is the charm. Yuuuuuuuuu!
Nationals:
You think anyone wants to face
Stephen Strasburg
,
Jordan Zimmermann
and
Gio Gonzalez
in a three-game series? Plus,
Jayson Werth
and
Ryan Zimmerman
are due huge bounce-backs and we're about to see the debut of
Bryce Harper
.
So run with these and expand upon them, fans of every team. If someone tells you otherwise, who cares? Again, no one other than D-Backs fans -- and maybe not even them -- saw Arizona coming last year. Every season has examples like that. As far as baseball fans are concerned, it's the first day of spring. Anything is possible, so bring the optimism.
For more baseball news, rumors and analysis, follow @EyeOnBaseball on Twitter, subscribe to the RSS feed and "like" us on Facebook.