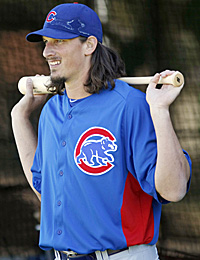 By Matt Snyder
As the
Cubs
franchise strives to do a complete makeover, fundamentals have been reemphasized in camp this season. More attention is reportedly being paid to baserunning and pitchers' fielding, for example. Also: Bunting.
And in the spirit of the upcoming March Madness -- watch the NCAA basketball tournament on CBS! -- new manager Dale Sveum has devised a 64-man bunting tournament that will begin Thursday. With there only being 62 players in camp, Sveum threw himself in the bracket along with strength coach Tim Buss (via
Chicago Tribune
). Tribune beat writer Paul Sullivan has posted a
picture of the entire bracket on his Facebook page
.
Sveum made setup man
Kerry Wood
a No. 2 seed -- and if that's an accurate ranking, it's a good thing the Cubs are refocusing on bunting considering Wood hasn't had a big-league plate appearance since 2007 -- and put himself against Wood in Round 1 as a 15.
Sullivan reports the players' consensus is that starting pitchers
Ryan Dempster
and
Randy Wells
are the favorites, though speedy outfielder
Tony Campana
named himself the man to beat.
Having seen many Cubs games the past several seasons, I'd be shocked if anyone beats Dempster -- not that the winner really matters. And my reaction to seeing
Alfonso Soriano
as a 15-seed?
How are there at least four worse bunters in camp?
Two things here do matter, though:
1. The focus on fundamentals.
2. Having fun. It's a long spring training and exercises like these help bring the team together. If you scoff at that notion, note that Joe Girardi had the 2009
Yankees
compete
in a billiards tournament in spring training
as a team-building exercise. Obviously these Cubs don't have the same level of talent as the eventual '09 World Series champions, but the point remains that Sveum has his head in the right place.
For more baseball news, rumors and analysis, follow @EyeOnBaseball on Twitter, subscribe to the RSS feed and "like" us on Facebook.