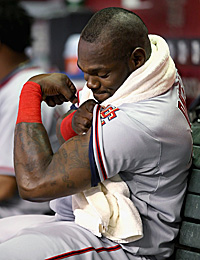 By Matt Snyder
Elijah Dukes was once a third round draft pick by the Tampa Bay
Rays
and at one point was considered one of the better prospects in baseball. Unfortunately, he's become an illustration that God-given talent doesn't guarantee success in life. Dukes, 27, has reportedly been arrested again.
According to RaysIndex.com, the
Hillsborough County Sheriff's office arrested Dukes at 1 a.m. Thursday on several charges
, including possession of marijuana, driving with a suspended license and attempt to destroy evidence.
And with this being Dukes, it couldn't just be a boring, run-of-the-mill arrest. No, his "attempt to destroy evidence" was actually him trying to hurry and eat the bag of pot before the cops saw it (via
TBO.com
).
Dukes has now been arrested many times. A few of those have been for driving with a suspended license, while he's been charged with failure to pay child support and also for assaulting a pregnant girlfriend. Most notorious, though, was when he threatened to kill his wife and children, leaving his wife a voice mail that said, among other things,
"you dead, dawg."
Dukes hasn't played in the majors since 2009. He played for the Newark Bears in Independent ball in 2010, hitting .366 in 28 games.
For more baseball news, rumors and analysis, follow @EyeOnBaseball on Twitter, subscribe to the RSS feed and "like" us on Facebook.