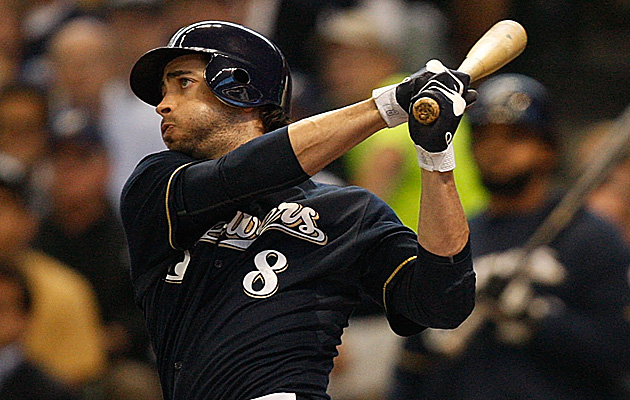 By Matt Snyder
Brewers
outfielder
Ryan Braun
has won his appeal and will not serve a suspension for a positive drug test late last season, CBSSports.com's Jon Heyman has confirmed. The news was first reported by the
Milwaukee Journal-Sentinel
. This means arbitrator Shyam Das ruled Braun was not guilty in his failed test -- which showed elevated testosterone levels.
The appeal was held in front of Major League Baseball, the MLB Players Association and Das, a third-party arbitrator. The chain of custody of the sample is where Braun won the appeal. His side argued it was improperly handled and there must have been enough evidence to convince Das.
The sample in question was collected on Oct. 1, a Saturday and the day the Brewers opened the NL playoffs. The collector did not send the sample to the laboratory until Monday, thinking it would be more secure at home than at a Federal Express office during the weekend. Baseball's drug agreement states that "absent unusual circumstances, the specimens should be sent by FedEx to the laboratory on the same day they are collected."
Major League Baseball, for one, is not happy. Here's the statement released by MLB executive vice president for labor relations Rob Manfred:
"Major League Baseball considers the obligations of the Joint Drug Prevention and Treatment Program essential to the integrity of our game, our Clubs and all of the players who take the field. It has always been Major League Baseball's position that no matter who tests positive, we will exhaust all avenues in pursuit of the appropriate discipline. We have been true to that position in every instance, because baseball fans deserve nothing less.
"As a part of our drug testing program, the Commissioner's Office and the Players Association agreed to a neutral third party review for instances that are under dispute. While we have always respected that process, Major League Baseball vehemently disagrees with the decision rendered today by arbitrator Shyam Das."
Travis Tygart, chief executive officer of the U.S. Anti-Doping Agency, called the decision "a real gut-kick to clean athletes."
Das has been baseball's independent arbitrator since 2000 and this is the first successful drug test-related appeal.
Positive tests for performance-enhancing drugs have been relatively rare under the major league testing program, with just two others in 2011: Tampa Bay outfielder
Manny Ramirez
and Colorado
Rockies
catcher
Eliezer Alfonzo
. Ramirez at first retired rather than face a 100-game suspension for a second positive test. Now that he wants to play again and since he missed most of last year, he will only need to serve a 50-game penalty.
Braun has maintained his innocence
since word of his positive test leaked
after the Winter Meetings. Sources told CBSSports.com's Danny Knobler that when Braun found out he had tested positive for a banned substance he requested a second test, which came up negative. Braun then appealed the first failed test, and the results were supposed to stay confidential, but an ESPN report outed Braun's test on December 10 and the story has been lingering since then.
Braun, 28, won the NL MVP in 2011 when he hit .332/.397/.597 with 33 homers, 111 RBI and 109 runs for the NL Central-winning Brewers. He will join his teammates in Brewers camp Friday, as scheduled.
For more baseball news, rumors and analysis, follow @EyeOnBaseball on Twitter, subscribe to the RSS feed and "like" us on Facebook.