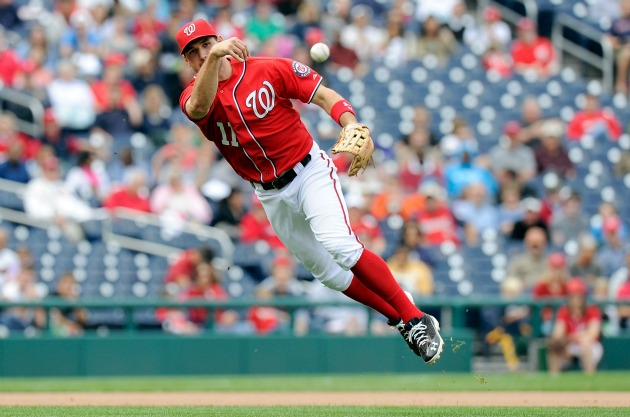 By C. Trent Rosecrans
Ryan Zimmerman
would like to have his contract settled by Saturday morning, giving the
Nationals
a deadline, he told reporters, including CBSSports.com insider Jon Heyman.
The last stick point is a no-trade clause -- something the Nationals gave
Jayson Werth
and it's believed they offered to free-agents
Mark Buehrle
and
Prince Fielder
this offseason.
Zimmerman, 27, will make $12 million this season and $14 million in 2013. According to Heyman, the money involved in the extension isn't the issue. If the sides can agree to a deal, it's expected to be for about $18 million per season, according to Heyman.
That, to the Zimmerman camp, is seen as a team-friendly deal, which is why he'd want the no-trade clause. If Zimmerman, a Virginia native, is taking less money to stay with the Nationals, he wants to be assured he will be able to stay with the Nationals.
"The important part of me signing this deal is to be here, not to sign a deal that's team-friendly to have it with another team," Zimmerman said (
via the Washington Post
). "That's the whole point of doing it. … I wouldn't sign a deal like this for the
Red Sox
or the
Yankees
or the Dodogers or any other team."
Zimmerman has said he set the deadline so that it doesn't become a distraction as the team prepares for the season. Because Zimmerman is signed through the 2013 season, he said it's not crucial that he gets an extension now.
"If it happens, I'm thrilled," Zimmerman said (
via the Washington Post
). "If not, I've got two years left here still. I'm excited for this year. We've got a great team. We've got a chance to do something special, something we've not done with this organization. I think all of us are kind of ready to get to work and get going.
"It's not like this is the last year. It's not make-or-break. Getting this done would obviously make them not have to worry about it this year or next year or next offseason."
Any no-trade clause would need to be only for the first three seasons. By the third season, he would gain no-trade rights by being a 10-year veteran with five years with his current team.
If the Nationals don't sign Zimmerman and allow him to leave after the 2013 season, that could be just the time needed for 2011 first-round
Anthony Rendon
to be ready to take over at third base
. If Zimmerman does stay, he could move to first base at some point to make room for Rendon. Of course, there's also no guarantee Rendon pans out, either.
For more baseball news, rumors and analysis, follow @EyeOnBaseball on Twitter, subscribe to the RSS feed and "like" us on Facebook.