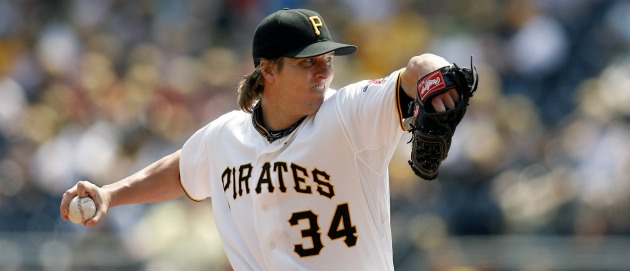 By C. Trent Rosecrans
Daniel McCutchen
is no dumb jock.
Most of the time when a veteran comes to a new team and wants his jersey number from a younger player, that player will aks for a watch or a car or some other such nonsense. McCutchen, who wore No. 34 for the
Pirates
before
A.J. Burnett
came aboard, had a much better idea.
Instead of some trinket, McCutchen asked for Burnett to set up a
CollegeAmerica 529 plan
for the 29-year-old reliever's unborn daughter. And now Burnett wears No. 34 and McCutchen wears No. 25.
"When a veteran comes in and takes a number, some of the guys usually get something,"
McCutchen told Bill Brink of the Pittsburgh Post-Gazette
. "I know he has kids. He asked me what I wanted, I brought that up.
"Eighteen years from now, we'll see what the market is."
Of course, speaking as someone with a newborn daughter, I've certainly thought about what college will cost in 18 years. And then I cry and hope that some big-named blogger gets sent to CBSSports.com and wants my login name.
Hat-tip:
Getting Blanked
For more baseball news, rumors and analysis, follow @EyeOnBaseball on Twitter, subscribe to the RSS feed and "like" us on Facebook.