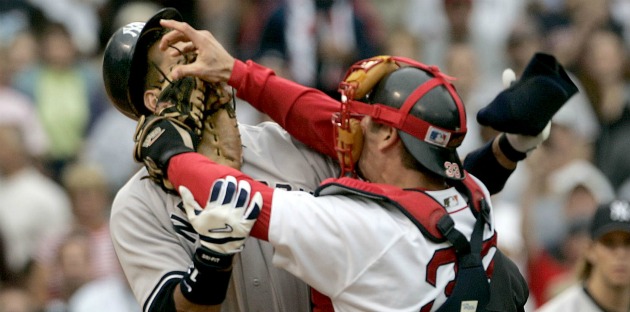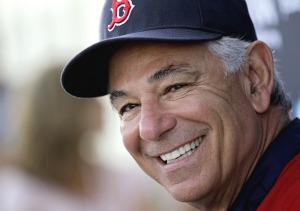 By C. Trent Rosecrans
Somewhere in Bobby Valentine's office, there may be a checklist of people he should insult.
Monday,
it was his predecessor
with the
Red Sox
and Tuesday it's his rival, the
Yankees
. First on the list of Yankees to tweak?
Alex Rodriguez
, second was
Derek Jeter
.
When discussing retiring Boston catcher
Jason Varitek
, Valentine took a swipe at A-Rod. In a list of positives about Varitek, Bobby V. noted "he beat up Alex," referring
to the 2004 dustup between the two
.
Then, while discussing his team's work on relays and cutoffs, he dared blast Jeter's famous flip in Game 2 of the 2001 American League Division Series against the A's.
"We'll never practice that," Valentine told reporters (
via the Boston Herald
). "I think [Jeter] was out of position. I think the ball gets [Jeremy Giambi] out if [Jeter] doesn't touch it, personally. That was amazing that he was there. I bet it's more amazing that he said he practiced it. I don't believe it."
Would the ball have gotten there in time without Jeter's help?
Looking back on it
, it may have been closer than I'd remembered. I'm still not sure it had enough juice to get there on its own.
I'm surprised while he's at it, he doesn't bring up that in the same game where Jeter made his famous diving catch in the stands in 2004, Pokey Reese made a similar, but superior, play earlier int he game. (If you don't remember, Reese's catch was similar, but he went further and made the catch closer to the wall -- he just lacked Jeter's theatrics and his team didn't win that game).
For more baseball news, rumors and analysis, follow @EyeOnBaseball on Twitter, subscribe to the RSS feed and "like" us on Facebook.