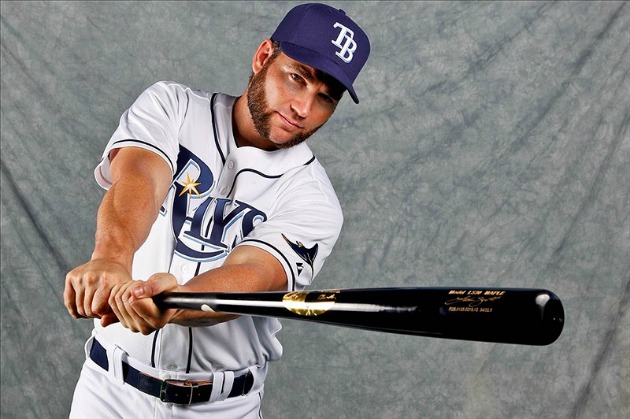 By C. Trent Rosecrans
Luke Scott
has
never been one to shy away from his opinions
, and Wednesday the former Oriole and current Ray took aim with his tongue,
not his 7 1/2-foot spear
.
Scott. who was injured and didn't play in the
Orioles
' victory over the
Red Sox
on the final day of the season, said his teammates were pulling for the
Rays
to take the final playoff spot from the Red Sox.
The reason, Scott's not a fan of the Red Sox fans.
From MLB.com's Bill Chastain
:
"Just their arrogance," Scott said. "The fans come in and they take over the city. They're ruthless. They're vulgar. They cause trouble. They talk about your family. Swear at you. Who likes that? When people do that, it just gives you more incentive to beat them. Then when things like [the last game of last season] happen, you celebrate even more. You go to St. Louis -- classiest fans in the game. You do well, there's no vulgarity. You know what? You don't wish them bad."
He added that the team's celebration went up a notch moments after the Orioles won when the Rays'
Evan Longoria
homered to knock the Red Sox out of the playoffs.
"Everybody's giving high-fives, then all of a sudden [Longoria] homers," Scott said. "Everybody's in the clubhouse and it's like, Bam! And we're like, 'Go home Boston! Pack your bags. See you next year.'"
Then on his way home, Scott even taunted Boston fans.
"It was like someone shot their dog. I rolled down the window and I'm like, 'Ah, hah, sucks doesn't it, when someone laughs or makes fun of you when things aren't going your way.'"
I'm guessing when the Rays and Red Sox play this year, the Sox fans may ratchet up their "ruthless" and "vulgar" ways.
For more baseball news, rumors and analysis, follow @EyeOnBaseball on Twitter, subscribe to the RSS feed and "like" us on Facebook.