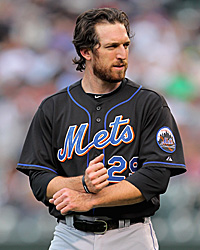 By Matt Snyder
Young
Mets
first baseman
Ike Davis
has had blood tests to see
if he has either Valley Fever or Desert Fever
, reports MLB.com. He had the tests 11 days ago but is still waiting on the results. Meanwhile, the Mets are treating him as if he has Valley Fever.
"We're treating him as if that's what it is," Mets manager Terry Collins said (
MLB.com
). "We can't let him run down. That's what we've been told. We'll give him some days off. He says he can go, and he's been doing everything he's supposed to. But we need to be sure he doesn't push it."
If Davis does have Valley Fever, it would be a rather significant blow to his chances of having a productive 2012 season and could even do long-term damage.
Conor Jackson
had the malady in 2009 and it limited him to just 30 games. He lost about 35 pounds. In the three years before 2009, Jackson was an everyday player and had an .822 OPS. Since 2009, Jackson has been a bench player with a .656 OPS. And he's only 29.
Back in 2009, Jackson said this on playing with Valley Fever: "By the third inning, it felt like I had played 20 innings with an 80-pound backpack on. It was brutal." (
Arizona Republic
)
Davis, 24, is trying to keep his head up.
"No one has told me for sure what it is, and I haven't asked," he said (
MLB.com
). "But they're pretty positive it is [Valley Fever]. I'm trying to be positive about it. I'll just be careful the way they tell me to be careful."
The Mayo clinic defines Valley Fever as
"a fungal infection caused by coccidioides (kok-sid-ee-OI-deze) organisms. It can cause fever, chest pain and coughing, among other signs and symptoms." Also, the clinic says this: "Mild cases of Valley Fever usually go away on their own. In more severe cases of Valley Fever, doctors prescribe antifungal medications that can treat the underlying infection."
Davis missed most of last season with an ankle injury. He hit .302/.383/.543 with seven homers and 25 RBI in just 36 games. As a rookie in 2010, Davis hit 19 homers with a .791 OPS and finished seventh in Rookie of the Year voting.
UPDATE:
The Mets have released the following statement, and it doesn't sound like they believe Davis' case to be severe:
"Ike Davis underwent a routine physical exam after his arrival in PSL. The exam included an abnormal chest X-ray. Following additional tests here and in NYC, pulmonary and infectious disease specialists have concluded that Ike likely has Valley Fever, which is expected to resolve itself over time. Ike is not contagious, is not taking any medication for his condition and does not currently exhibit any of the outward symptoms associated with Valley Fever. However, Ike has been instructed to avoid extreme fatigue. No additional tests or examinations are pending, but Ike will have a follow up exam when the team returns to NYC in early April."
For more baseball news, rumors and analysis, follow @EyeOnBaseball on Twitter, subscribe to the RSS feed and "like" us on Facebook.