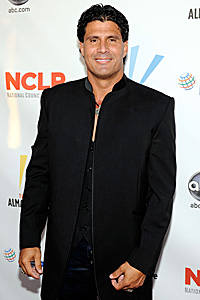 By Matt Snyder
Major-league headache Jose Canseco is back in the news. This time, the 47-year-old former slugger is trying to make a comeback in the Mexican League and has reportedly been busted for a banned substance. So he's out of the league now. Yes, I'm shocked, too.
ESPN Deportes reported late Wednesday night
that Canseco admitted to Mexican League president Plinio Escalante about using a banned substance that was testosterone. The Mexican League is a Triple-A affiliation to Major League Baseball, but none of the teams are connected to actual MLB clubs.
Of course, Canseco took to the
Twitterverse to plead his innocence
-- or, really, it was more his "non-guilt."
"How can I test positive when I never took any test don't believe everything the media tells you.the truth always comes out I am not using any illegal substance," he said.
Of course, the ESPN report noted that Canseco refused a drug test, so it didn't claim he tested positive. It just said he admitted it to the president of the league. As far as I know, the president of the league isn't in the media. But that didn't mean the world's least accountable person was done.
Here are some more tweets. I'll spare the "SIC" in the quotes, just know that these are exactly as good ol' Jose typed them into Twitter:
"Don't be so quick to judge till you here the truth that's a sure sign of ignorance hatred and jealousy."
"The truth will always be in the center of controversy"
"I don't get it the more I tell the truth the more I am hated wow we are headed for self destruction"
Then Jose got into his defense. Which seems to be that five years ago some Doctors decided he needed to be on testosterone. More awesome tweets (please note the sarcasm):
"Doctors have been monitoring me ever since to make sure my levels are normal.that's why I don't use any illegal substances its prescribed"
"All I am on is prescription medication for low testosterone .legal and very important to my health"
And then the inevitable conspiracy theory:
"Someone big wants me out of Mexico .question is who and y"
Yes, Jose, someone "big" let you into the Mexican League because it's so vastly popular worldwide and then decided to get you to admit that you're using testosterone to the league president (and if said president didn't want him in the league, why did he allow him in to begin with?).
I couldn't care less for Canseco's "defense." Playing baseball isn't a right. It's a privilege -- one he's taken for granted his entire life. Hey, at least this news provided a break in his Twitter feed from begging Billy Beane for a job or telling his girlfriend Leila how much he loves her. So there's that.
Addendum:
I've noticed some people in the comments saying Jose's story makes sense -- that he has to take testosterone. That may well be, but under the rules of MLB and its affiliates, you can't take testosterone and play. Period. So he's basically admitting he did violate the rules in his "defense."
For more baseball news, rumors and analysis, follow @EyeOnBaseball on Twitter, subscribe to the RSS feed and "like" us on Facebook.