Josh Katzowitz and Andy Benoit resume their debate, this time taking a look at the top five punters in the NFL.
Andy Benoit's top five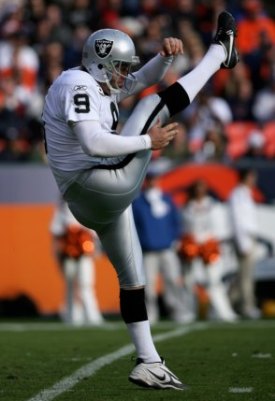 5. Mike Scifres, Chargers

4. Donnie Jones, Rams

3. Brian Moorman, Bills

2. Andy Lee, 49ers

1. Shane Lechler, Raiders
Josh, you may not have agreed with all of my top five safeties, cornerbacks and outside linebackers, but just know, I'll be damned if I'm going to have anyone refute my top five punters list.
I'll never forget Mike Scifres' performance against the
Colts
in the 2008 wild card game: six punts attempted, six punts left inside the 20. And with a 52.7 average, no less. Just because of that game, Scifres will make my top five punters list for all eternity.
I wouldn't recognize Donnie Jones if he walked up and kicked me in the shins, but I seem to notice his name near the top of the punting charts every time I check the stats (that's right, I check punting stats …).
Brian Moorman is known for fake punts, which overshadows his actual punts. Those actually punts are among the best in the league – especially when considering Moorman's kicking in the gales of Ralph Wilson Stadium. Andy Lee is a poor man's Shane Lechler, which is a compliment, because Lechler is hands down the best punter of his generation.
Josh Katzowitz's top five



5. Dave Zastudil, Browns

4. Dustin Colquitt, Chiefs

3. Donnie Jones, Rams

2. Andy Lee, 49ers

1. Shane Lechler, Raiders
I was actually hoping there was some sort of clause where I could insert Ray Guy – a man who should be in the HOF – into my top five list. Which leads me to my favorite punting factoid ever. Former
Falcons
punter Chris Mohr, a 15-year veteran, is not even the best punter to ever emerge from tiny Thomson, Ga. (population 6,800). That, of course, would be Guy.
Anyway, if there's anything the Raiders have done right, it's to shore up their kicking game. Lechler and K
Sebastian Janikowski
are the top tandem in the league. There's really not much use in arguing for or against Lechler. He'd probably be the unanimous pick of everyone who follows the league.
It's hard to disagree with Lee as your No. 2. He's been one of the most consistent punters in the last three years. He dropped 30 inside the 20-yard line last year, and it's no fluke. In 2007, he recorded 42. I agree with Jones, and I was going to send him to your house to kick your shins. Except I don't know what he looks like either. Colquitt also has been consistent during his five-year career, and last year, he recorded 41 punts inside the 20 with only six touchbacks. That's outstanding. But you know what I love the most about this list? The more terrible the team, the better the punter. The combined 2009 record of my top five? A staggering 23-57. That's only slightly worse than Andy's 3-4 OLB list.
Andy's rebuttal
How good of a punter do you think your boy
Manny Lawson
would be?
Josh's final word
At this point, I think it would be a robbery if Lawson wasn't named the league's MVP. Unanimously. Before the season began.
(
Other positions:
Safety
|
Cornerback
|
3-4 Scheme Outside Linebacker
)
--Josh Katzowitz and Andy Benoit
For more NFL news, rumors and analysis, follow @cbssportsnfl on Twitter.