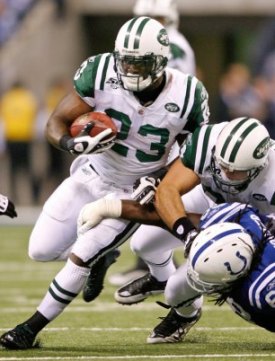 If you're a football fan, you have to like the attitude of RB
Shonn Greene
, as captured in this
New York Daily New
s blog post. You want me to run out of bounds to preserve my body? You want me to shy away from contact to keep myself healthy? Screw you, buddy.
That's something fans should love. Owners and coaches? Maybe not so much.
With
Thomas Jones
, who started all 16 regular-season games for New York and gained 1,402 yards with 14 touchdowns on 331 carries last year, moving to Kansas City, it will fall to Greene (and, to a much lesser extent,
LaDainian Tomlinson
) to take pressure of QB
Mark Sanchez
.
In order for that to happen, it'd be wise of Greene to try to stay out of the trainer's room as much as possible. He's not interested in that approach.
"We don't run out of bounds," Greene told the paper. "I've been taught that all my life…. I don't think that's going to help the way I play by doing that. If I just go out and do what I do, everything else will take care of itself. That's what I do. I play the game of football. You can't worry, 'Oh, what if I do this? What if I run out of bounds?' No, that's not the game of football to me. Football is a hard-nosed game."
Still, isn't a long career something to consider? Isn't making it to the end of the season a plus?
"I like his style," running backs coach Anthony Lynn said. "I don't want him to change very much at all. He's going to take some shots, but he also gave a lot of shots. So, I like that attitude he has running the football. He has great body lean -- the guy's always falling forward for extra yards. But there are a couple times when you have to take a guy on the edge and maybe not so much down the middle because I do want to get him through 16 games."
"You just make him aware of it. As guys play and run in this league, they get wiser and more aware. It's something that they learn over time."
--Josh Katzowitz
For more NFL news, rumors and analysis, follow @cbssportsnfl on Twitter.