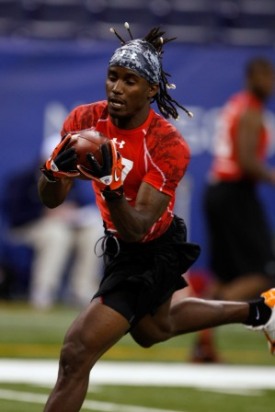 Coming off last week's mandatory NFL rookie symposium, I caught up with
Rams
fourth-round pick, WR
Mardy Gilyard
. I wanted to know what it was like to take part in the mandatory event, whether the rookies actually learned anything or whether they spent their time sleeping through the lectures and discussions.
I simply wanted to know if the symposium had an impact, especially when you consider that some estimates say that 75 percent of NFL players are broke 3-5 years after they retire (you can argue that this percentage is astronomical, but even if it's 50 percent or if it's 35 percent, that's not so good either).
According to Gilyard, the symposium was very helpful indeed.
"Everybody was at the edge of their seat," he told me last week. "That was what I liked about it. I thought we were going to get a lecture and that it was going to be a long, boring deal. But we were involved, and we enjoyed ourselves. It was all gravy."
The purpose of the symposium is to teach rookies new life skills – how to manage their money, how to avoid danger, and how to transition into and, eventually, out of the league.
Want to try to avoid having to file bankruptcy, a la former
Jaguars
QB Mark Brunell and former great
Dermontti Dawson
? Want to avoid situations where you could end up in danger – either with the police or with your life? Then pay attention to what a former star like Cris Carter says.
"Your friends are starting to say, 'Aw man, I knew you'd change,'" Carter said during his lecture. "You'd better change. You'd better watch your money. When you get old like me, you better know you've got some money. You're the one risking your neck. Nobody else is taking a double team. They're sitting at the crib waiting for the game to start."
It's something Gilyard took to heart.
"I still view it like I have no money," said Gilyard, who grew up in a rough Bunnell, Fla., neighborhood who now has a four-year, $2.34 million contract. "That's the way I have to look at it. That's how I look at it on the field. I'm just average, and I can always get better and better. It's almost getting down on yourself. I have to make sure I tell myself that I'm not good, that I don't have any money."
Gilyard leaves the money managing to his financial advisors. He said he wants nothing more than a monthly allowance. He doesn't want to be the one to spend $20,000 in a week and not have any idea where it all went.
"I didn't hire you to be my friend," Gilyard said. "I hired you to manage my money. You have to have a plan. You have to be able to recognize your plan. You have to plan it out and know there are some procedures. Have fun but save money at the same time."
And be safe. That was another point of the symposium. Hopefully, Gilyard was paying extra attention to that lecture.
On May 17, Gilyard and a bodyguard were leaving a convenience story near the University of Cincinnati campus when he was robbed at gunpoint. The assailant made off with $90 in cash and a $500 chain from Gilyard. He was lucky he didn't lose more money. He was lucky he wasn't shot.
Gilyard didn't want to talk about the robbery when we spoke, but it's clear he learned something at the symposium.
"If you feel like you have to carry a gun in the area you're in, if you feel like there might be some danger, you shouldn't be in that spot anyway," Gilyard said. "That's a point they hit. It was an eye-opener."
As was the entire four-day symposium.
"It's an event where you have to be a big sponge and soak up all the information you can and hold it the best way you can," Gilyard said. "Everything they told us, it was phenomenal."
--Josh Katzowitz
For more NFL news, rumors and analysis, follow @cbssportsnfl on Twitter.