Following up on the post about
Jeremy Trueblood
's arrest from earlier, his agent, Tom Condon, is contradicting initial police reports.
TampaBay.com
writes: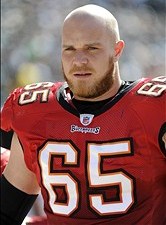 He tells us Trueblood was not among the individuals who created a disturbance in the Indianapolis-area convenience store Tuesday night. Condon said others in Trueblood's party -- there were three carloads of friends and relatives who earlier had been playing golf -- who did enter the convenience store and presumably created the disturbance that prompted a clerk there to call police.

"I have no idea what they were doing," Condon said.

Condon said that when police arrived at the scene, Trueblood was surprised when police asked him to get out of the passenger seat of one of the vehicles, driven by his mother. Police allege Trueblood was defiant, but Condon said he complied. It was then determined, Condon said, that Trueblood had been drinking and he was taken into custody.

"He was not arrested and he wasn't cited," Condon said.

Jail officials in Hancock County, Ind. have policy that suspects who are determined to be intoxicated cannot be released from custody until they test for a blood-alcohol content of 0.00. At that point, Trueblood was released this morning without any charges.
--Andy Benoit
For more NFL news, rumors and analysis,
follow
@cbssportsnfl
on Twitter