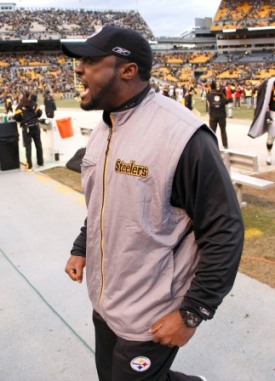 Ed Bouchette of the
Pittsburgh Post-Gazette
asks an interesting question today. Does
Steelers
coach Mike Tomlin have a credibility problem with Pittsburgh's fans?
To an outsider, at first glance, that seems a ridiculous query. After all, Tomlin is 31-17 in his first three seasons as the Steelers coach, and he brought the team a Super Bowl title in 2008 at the age of 36. Yeah, the team crapped out last season, losing five straight in November and December to finish 9-7 and out of the playoffs.
But still, he's seen as one of the brightest young minds in the league. Or is he?
Bouchette thinks Tomlin might have a trustworthiness problem, and one reason to which he points: third-string QB
Charlie Batch
.
As Bouchette writes, Tomlin keeps insisting that Batch will compete with
Byron Leftwich
and
Dennis Dixon
to see who will start while
Ben Roethlisberger
serves his suspension.
"I can tell you right now," Bouchette writes, "that's not happening unless both Byron Leftwich and Dennis Dixon break their legs."
Bouchette also makes the case that because Tomlin continues to list
Ike Taylor
as the left CB when everybody knows he plays on the right side, that shows another crack in the foundation of Tomlin's credibility. True, it's annoying when the depth chart is purposefully incorrect, but this wasn't Tomlin's invention. Bouchette writes, "the only ones they're deceiving are the casual fans and those in the media." But do you honestly think a coach cares about what the casual fan thinks? I'm guessing no. As in no way in hell.
Listen, we all know football coaches are deceivers when it comes to talking to the media. Hell, some of them outright lie. Hell, more than a few of them have outright lied right to my face. That's part of the deal. It's like the star giving thanks to God. You accept it – or ignore it – and move on. It's the reporter's job to analyze what the coach has said and tell his readers, in not so many words, that the coach is full of it if that's what's happening.
Which is exactly what Bouchette has done in this piece. So, is it a credibility problem with Tomlin? No, I don't think so. I think Tomlin is just like every other football coach out there. He's not willing to show his cards until he hears the whistle to begin the first game. That's football. That's life.
He's doing his job, just like Bouchette is doing his.
--Josh Katzowitz
For more NFL news, rumors and analysis, follow @cbssportsnfl on Twitter.