Josh Katzowitz and Andy Benoit resume their debate, with today's focus on guards.

Andy Benoit's top five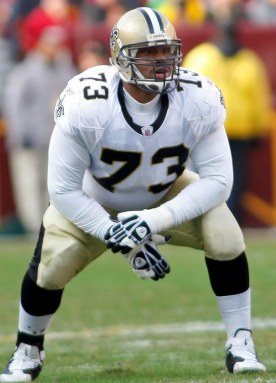 5. Leonard Davis, Cowboys

4. Steve Hutchinson, Vikings

3. Carl Nicks, Saints

2. Kris Dielman, Chargers

1. Jahri Evans, Saints

As you can see, an unsexy list from the unsexiest position in football. Leonard Davis makes it because he knows how to use his 365-pound size. Everyone thinks Steve Hutchinson is a God, but that's only because most fans don't know the names of any other guards. Hutchinson was once the best, but at 32, he's lost half a step (which is half a step less than Alan Faneca). Of course, Hutchinson had plenty of steps to spare. He still offers good mobility, but his strength in a phone booth has declined.

You might read the name "Carl Nicks" and say Who?! The Saints left guard is a monster in the run game, getting to the second level with regularity. The only thing he struggles with is lateral movement as a pass-blocker. Dielman is rock-solid. Evans is an even better run-blocker than Nicks, plus he's reliable in pass protection.

Josh Katzowitz's top five

5. Bobbie Williams, Bengals

4. Kris Dielman, Chargers

3. Chris Snee, Giants

2. Jahri Evans, Saints

1. Logan Mankins, Patriots

I agree that Evans is one of the best guards around, but I don't think he's earned the title of No. 1 quite yet. Yes, he had a heck of a season last year, and he was rewarded with a seven-year, $56-million contract. But he needs to mirror that performance for at least one more year before I can knight him as the top guy.

Mankins has been the most talked-about guard throughout the offseason because of his contract clashes with New England's front office. The fact he might not play this year has to be worrisome to Patriots fans. Mankins is strong, and he has good quickness and agility. If he's playing, he's the best out there. Andy, I'm surprised you didn't even put Mankins on your list.

Snee has a great initial punch at the line of scrimmage, and when he gets to the next level, he makes linebackers pay. Plus, he's durable, starting the last 78 games the Giants have played.

Williams has been the rock of a Bengals offensive line that continues to turn over year after year. He's underrated and has never made a Pro Bowl squad. He's not going to wow you, but that doesn't mean he's not on the top five fringe. He's just too consistent and solid for me not to put on this list.

Andy's rebuttal

Top five fringe is different from top five, Josh. More on that in a second.

I like the Snee pick, and I can certainly live with Mankins (though, obviously, I think No. 1 is too high). Both those guys have the unique ability to land square, domineering blocks off of movement. I still think Hutchinson is elite (or borderline elite), and I'm disappointed you didn't praise my prescience for going with Nicks now, and not after he gets his first Pro Bowl (either this season or next).

Okay, let's talk about the fringe pick, Williams. You're a (former) Bengals Rapid Reporter. I'm not suggesting you lack journalistic integrity – not at all – but I'm willing to bet you have a good working relationship with the 11th-year veteran. From afar, Williams seems like he'd be a good guy. He shows great on-field leadership. So, be honest, did Williams help you write your list?

The problem is, as a player, Williams is too close to the fat part of the bell curve. I'm going to break my rule of never publishing raw notes from film study to share some of what I took away from watching Williams these past two years:

Raw notes from '09 Bengals film:

Williams shows good power and size when he's able to be the aggressor. If he's stepping into a block between first and second level, he'll move guys. But if the action starts from standstill, he may not win.

Raw notes from '08 Bengals film:

Williams is about the same as always....decent but not great. Moves okay, doesn't have ideal power but gets in his spots, etc.
These are descriptions of a solid starter, not a top five player.

Josh's final word

Ha! If Williams and I had written this list, we would have spent all day laughing about your exclusion of Mankins. True, I've covered the Bengals for various outlets for the past five seasons, but I'm an objective journalist and I don't play favorites (hell I haven't had a favorite NFL team since I was a kid, and it certainly wasn't the Bengals). There are a few guys on the Bengals squad that are wonderful with whom to deal, but I haven't put them on any of our lists. Considering this is the 11th top five list we've done and Williams is the first Bengals player I've put in the spotlight – and probably the only one I'll include for the rest of our top five series – well, I think those facts speak for themselves.

Truth be told, I thought about Hutchinson, I thought about Nicks and I thought about Faneca (he's just nowhere near his prime anymore). I knew you'd hate the Williams pick, but in all my extensive research – and the fact I've seen him play scores of games the past few years – I'm more than confident in defending the selection. He's just too good and consistent.


Other positions: Safety | Cornerback | 3-4 Scheme Outside Linebacker | Punter | Kicker | 4-3 Scheme Outside Linebacker | Inside Linebacker | Defensive Tackle | Defensive End | Offensive Tackle | Center)


--Josh Katzowitz and Andy Benoit

For more NFL news, rumors and analysis, follow @cbssportsnfl on Twitter.