If you haven't had a chance to read Pete Prisco's recent article on the Arizona Cardinals' quarterback situation, do so. Prisco asked Cardinals head coach Ken Whisenhunt about rumors that Matt Leinart's place ahead of newcomer Derek Anderson could be in jeopardy.

"I don't know where that came from," Whisenhunt said here Wednesday after a practice round for the American Century Celebrity Golf Tournament. "That's not the case. He's the starter."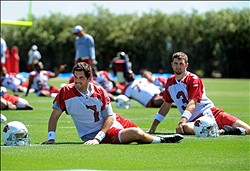 There, he said it.

But he also added an addendum.

"I think people say that because we have competition at every position," Whisenhunt said. "I'm not going to discount that Derek Anderson is a good football player. If he plays well, he'll have his opportunity. My expectation is that Matt will continue to improve and do the things he's been doing."

Hmm. Solid? Or not?

Leinart's hold on the starting job is anything but solid. People forget that the Cardinals begged – BEGGED – Kurt Warner not to retire this past offseason. They even offered him a Brett Favre-like offseason schedule. Fortunately for Leinart, Anderson is a turnover machine who is easy for defenses to figure out on film. But it's not great when your starter is the starter in part because the backup isn't formidable.

--Andy Benoit

For more NFL news, rumors and analysis, follow @cbssportsnfl on Twitter.