Colorado hip specialist, Dr. Marc Philippon, who operated on Kurt Warner, Alex Rodriguez and Ed Reed took a look at Osi Umenyiora and recommended hip surgery for the Giants defensive end. Umenyiora visited Philippon earlier this summer.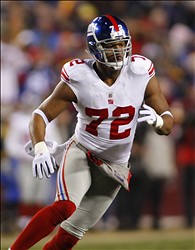 Umenyiora has had hip pain off and on since tearing his hip flexor in 2006.

Mike Garafalo of the Star Ledger writes:

Umenyiora tried to battle his way through a hip issue this offseason, as he figured it was simply another flare-up of a lingering injury that pops up annually during spring workouts.
One month into summer, the pain is still there for the Giants' beleaguered defensive end. And one expert says it won't go away without surgery.

No one from the Giants or Umenyiora's circle would comment. Umenyiora is expected to take the field on the first day of training camp.


-- Andy Benoit

For more NFL news, rumors and analysis, follow @cbssportsnfl on Twitter and subscribe to our RSS Feed.