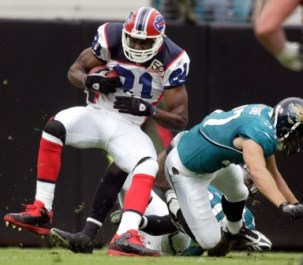 Chris Crocker
doesn't sugarcoat his comments. If he has a problem with somebody and a reporter asks him about it, he'll say whatever comes to mind. He's a reporter's dream, because he doesn't use a filter to water down his opinions. You never have to go off the record with the
Bengals
free safety.
After reports surfaced that Terrell Owens and the Bengals had reached an agreement on a one-year contract that will pay him a $2 million base salary and could give him as much as $2 million in roster bonuses, I wanted to touch base with Crocker. I knew if Crocker was unsure about his newest teammate – be it because Owens has lost some of his elite play-making ability or because Owens still has a crappy reputation – he'd let it be known.
I'd already raised
my confusion
about why Cincinnati would sign Owens, but to Crocker, it was clear. And not only does Crocker
not
have a problem with Owens joining the squad, he's really, really excited about it.
"I think it's great," Crocker said. "It just shows we're trying to do everything, and it will add another piece to get us to the Super Bowl in Dallas in February. We have so many other guys on the team that have had question marks beside them as far as character is concerned, but our locker room is as strong as it gets. If T.O. is half of the player he was before he went to Buffalo, that's going to be a great thing for us."
The Bengals, as has been well documented, have become a paradise for players needing second and third chances. The term "Betty Ford Clinic for the NFL" has been bandied about quite often.
Cedric Benson
needed another chance.
Chris Henry
needed one.
Larry Johnson
needed one.
Tank Johnson
,
Adam Jones
,
Matt Jones
,
Dezmon Briscoe
, they all needed one. The list goes on to ridiculous lengths.
But in the past couple seasons, the questionable character signings haven't affected the team chemistry.
"There's one common goal, and there's not one person or one man who can divide our locker room," Crocker said. "That's to get to the Super Bowl. There's enough strong personalities and we have enough strong leadership that we won't allow a bunch of dissension. As long as you're a good person and willing to show you'll do right, that's all that matters.
"There are enough guys in the locker room where we police each other. Everybody has egos and strong personalities but we have guys who know how to take somebody to the side and talk to them about what's going on. We don't let things go. We handle issues in house and we take care of it and move on."
I still wonder, though. How will the Bengals split touches between Ochocinco, Bryant, Owens, Benson, first-round pick TE
Jermaine Gresham
and everybody else on the roster?
"That's a good problem to have," said Dave Lapham, former Bengals OL and the team's radio color commentator. "It's going to have to be a case of unselfishness. You can't double-team everybody. It's kind of like pick your poison. It's always better to have that problem than not have any weapons at all. But it'll be interesting halfway through this season if T.O. is tracking low and not on track to make his incentives. Will he get in Carson's face? That will be interesting to monitor."
Not everyone was so impressed with the Bengals signing.
Browns
CB
Brandon McDonald
wrote on his
Twitter page
in what only could be considered a classy status update: "TO to da Bengals huh??? Yessss, another piece of (fill in the blank here) fa da Browns secondary to run a train on..."
But if you discount the words of a player whose teams have gone 9-23 the past two years, it still seems like it'll tough for everybody to get along, especially if
Chad Ochocinco
or Owens or
Antonio Bryant
aren't getting the desired number of passes
Carson Palmer
throws their way.
"At the end of the day day, Carson controls who gets the ball," Crocker said. "He's going to throw the ball to whoever is open. He's not going to play favorites. We don't play favorites on this team. Chad is always open. From his standpoint, he's always open and he's always going to bitch if he doesn't get the ball. That's what receivers do. But I know T.O. is going to come in and make plays. I'm excited, I really am. It's going to be a hell of a year."
--Josh Katzowitz
For more NFL news, rumors and analysis, follow @cbssportsnfl on Twitter and subscribe to our RSS Feed .