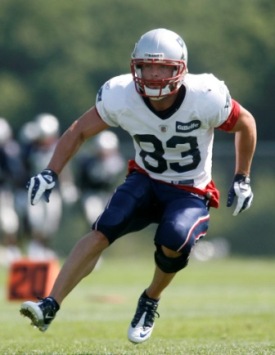 Patriots
WR
Wes Welker
made the leap from the Physically Unable to Perform list this morning to the practice field, and afterward, while talking with reporters, he said he feels like he never left. Basically, as smooth a transition back to football as he could have had.
That's pretty amazing for someone who tore his ACL just six months ago. He doesn't claim to be 100 percent healthy, but he's making wonderful progress.
"It was great," said Welker, who got a big ovation from the crowd when he appeared at practice this morning. "I was just happy to get out there and get to play and be out there with my teammates. That's been my goal, and I'm just happy for today to finally get here. You all think it's quick. It seems like a long time to me."
For now, Welker isn't involved with any 11-on-11 work or in any contact drills. He said he's not sure when he'll be allowed to practice fully, deflecting that decision to the team doctors and coaches. The big question mark in Welker's mind is how fast he can return to full health.
"I think coming off the ball with a lot of explosion and making sure you are getting in and out of your cuts with separation," Welker said, when asked what he needs to work on specifically. "(It's) really just getting back into the swing of things. Whether you are hurt or not, when you haven't played any sort of football for six months and you are just coming out there and trying to do it, there's going to be some mishaps. You're not going to be all there. You're going to be a little bit rusty, so you have to knock that rust off and make sure that you're coming back the way you need to."
--Josh Katzowitz
For more NFL news, rumors and analysis, follow @cbssportsnfl on Twitter and subscribe to our RSS Feed .