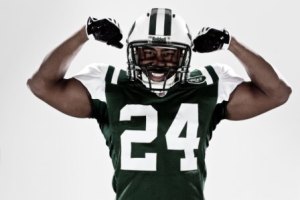 I talked with Lauren Shehadi on Monday during the CBSSports.com
Around the League video segment
, and I told her I thought the New York
Jets
would take care of CB Darrelle Revis' contract. They'd have to, I thought. He's the best cornerback in the league and he has plenty of leverage.
But I also pointed out that New York had moved
Antonio Cromartie
to Revis' side of the field, so it seemed that the Jets felt like a longer hold-out was a possibility. But – and I don't think I said this – I didn't expect his absence to last into the season.
Well, that might not be the case. At least, that's the sense I got from reading this
Boston Globe
story about Revis' holdout, which entered its third day today.
From Albert Breer's piece:
What are the chances the Jets start playing games that count without Revis? Better than you think.

"The main issue with us at this point is total compensation,'' owner Woody Johnson said. "The guaranteed money or length of a contract or all the things that are part of a contract. . . we haven't even negotiated those, because we're so far apart on the other one.''

The gap is, indeed, cavernous, according to league sources. The Jets have made a one-year offer, giving Revis a hefty raise from his $1 million salary with a promise to revisit the situation later, and they've also made a blockbuster long-term offer. Revis' opinion of both is represented by his absence.

But more than the dollars, the divide is philosophical.

Revis' position is simple. He wants that highest-paid-cornerback designation. That distinction now belongs to the Raiders' Nnamdi Asomugha, who signed a three-year, $45.3 million deal with $28.3 million guaranteed in 2009 that brings him $16.585 million in 2010.
Breer then points out something I hadn't thought about. Sure, Revis deserves to be one of the highest-paid players in the NFL – though I don't see how New York will give him $15 million – but he's still only a third-year player who still has three years left on his contract.
Oakland's Asomugha played out a contract and then was franchise-tagged before getting his huge contract.
Asante Samuel
,
Dunta Robinson
,
Nate Clements
and
Champ Bailey
went through similar circumstances. Why shouldn't Revis have to wait a little longer – prove a little more – before he gets paid like a big-boy cornerback.
I think eventually Revis will get more money, because he's so invaluable to the Jets defense. But it might take longer to get him on the field than I originally thought. And New York – financially and defensively – will be the poorer for it.
--Josh Katzowitz
For more NFL news, rumors and analysis, follow @cbssportsnfl on Twitter and subscribe to our RSS Feed .