Terrell Owens
is realistic about some of the incentives in his one-year contract with the
Bengals
. Take the $333,333 bonus for 100 catches, for example. "I know that's an unreachable goal," Owens said in a surprisingly in-depth and hard-cutting interview with the Bengals
website
." It is what it is. Malcontent? Check my statistics. I've had 100 catches one time in my career. One. So go figure."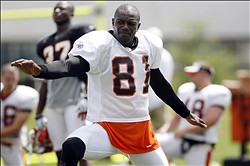 It was a risky move for the Bengals to lace Owens's contract with $2 million in incentives. Is there any player in the league who needs less encouragement to dwell on his own numbers than T.O.? Owens was asked if it bothered him that so much of his contract was incentive-based:
"No, it is what it is at this point. I know I'm very skillful. I know I'm very productive. I definitely took a pay cut to grasp the opportunity to win a Super Bowl. Like I said I know I'm worth more than what I'm being paid. But I'm here playing with my good friend Chad and playing with a team that definitely has an opportunity to win the Super Bowl."
Owens also said he is cool with
Donovan McNabb
now. But he doesn't regret the stuff that led to his exile from Philadelphia:
"No I don't. I probably could have done some things differently. I guess had I been more mature there would have been a better way to go about some things. Maybe not being so vocal. As far as my stance, my situation and things that were said from where I stood, I wasn't at fault. I can honestly say it because there was some staff that even know it wasn't my fault. What can they do? Again, everybody knew the situation, but you're only going to know what's being reported."
These are just minor snippets of the interview. Click
here
if you'd like to read the whole thing.
--Andy Benoit
For more NFL news, rumors and analysis, follow

@cbssportsnfl

on Twitter and subscribe to our

RSS Feed

.