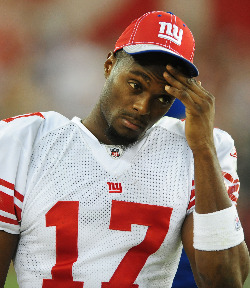 Posted by Will Brinson
Rumblings emerged yesterday that Plaxico Burress was
scheduled to be released from prison within a few weeks
, and that the
Giants
make 'take a look' at him.
The Giants might certainly be looking, but there's no reason to get too worked up about their interest: Plax's attorney, Peter Frankel,
told the New York Daily News
that the reports he'd be released within two-to-three weeks were "premature."
"That was somebody going to visit him, and saying he was hopeful he might be moved in two to three weeks, and suddenly that turned into 'He'll be out in two to three weeks,'" Frankel told the
Daily News
Wednesday. "We're respecting the process.
Mike Florio of Pro Football Talk countered
the original report from yesterday, calling the claim of Plax's release "bogus" and it appears he was right -- if Burress' attorney is clamoring to let people know his client won't be out in that time span, it's safe to say we won't see him floating out of the free agent pool for a little bit longer.
Burress
applied for a work release on July 2nd
, his second time doing so since entering prison on a two year sentence.
For more NFL news, rumors and analysis, follow @cbssportsnfl on Twitter and subscribe to our RSS Feed .