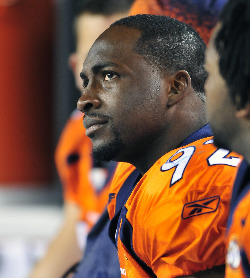 Posted by Will Brinson
Elvis Dumervil
(he of
the brand new contract that features
$43.168 million in guaranteed money) left Wednesday's practice with an injury, according to
Broncos
Rapid Reporter Lee Rasizer .
Dumervil was injured during one-on-one drills and headed to the trainer's room "clutching his right arm to his chest."
Now, a report from
Adam Schefter on Twitter
indicates that the injury is a torn pectoral muscle and that the Broncos' linebacker is out "indefinitely."
Schefter noted that Dumervil could miss up to four months, but it's also entirely possible that the Broncos place the star on Injured Reserve and end his season quite prematurely.
Dumervil was the NFL sack leader last year and was awarded the monster contract just a few weeks ago -- obviously, this is a disastrous scenario for the Broncos if it unfolds as reported.
Follow us on Twitter
and
tune into the Broncos Rapid Reports
for more information as this situation devlops.
Update (12:15):
Mike Klis of the Denver Post reports
that Dumervil will have surgery to repair the torn pectoral muscle and has will likely be out until "at least November." This means the Broncos are now faced with a serious decision as to whether they keep him on their roster for 2010 and risk him being unable to return (and wasting a roster spot in the process), or place him on IR and end his season early.
It's worth noting that if a player like Darrelle Revis or
Vincent Jackson
showed up to their respective team's camp today and suffered the same injury, the likelihood of them receiving the long-term contract they're seeking would absolutely plummet.
Of course, this is the nightmare scenario for the team in question: inking a star to a monster deal with a ton of guaranteed money, and then seeing that star get injured before taking a regular season snap. Neither scenario, clearly, is very enticing.
Update (12:21)
: The Broncos aren't commenting on Dumervil's injury (yet -- the team is expected to address it later today).
Football Outsiders ' Bill Barnwell has pretty bad news for Broncos' fans
though; their injury database shows only four players -- Chris Fuamatu-Ma-afala, Ruben Brown, Dave Brown and Matt O'Dwyer -- who returned from pectoral tears to play in the same season. The first three suffered only partial or slight tears. O'Dwyer suffered a full tear and was missed 12 weeks on the PUP list and returned to play four games.
In other words, expecting Dumervil to return in 2010 is a serious long shot. Almost as much as the Broncos finding someone to replace his production this year.
For more NFL news, rumors and analysis, follow @cbssportsnfl on Twitter and subscribe to our RSS Feed .