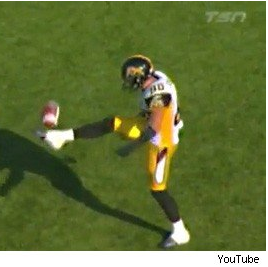 The Canadian Football League, typically, isn't worth watching. No offense, neighbors to the North. It's only really worth checking out when there's some sort of insane highlight.
Or, say, some dude doing an homage to the World Cup in the end zone after scoring a touchdown. Fortunately, that's exactly what the Hamilton Tiger-Cats (seriously?) Dave Stala did last week
when he scored on an 11-yard touchdown pass
.
Just as some context, if you've ever played soccer, you know that the hardest things to pull off -- at least in terms of intermediate-->advanced skillz -- are the rainbow and the extended juggle.
These are hard to do, mind you, with a ROUND SOCCER BALL. Imagine trying to pull them off with an oblong football, for nearly 10 seconds, with the pressure of tens
of thousands
of Canadians glaring at you.
Someone in the NFL needs to get a hold of this and make sure that
Chad Ochocinco
and
Terrell Owens
see it before the season starts -- it'll force them to up their game and bring the touchdown celebration heat.