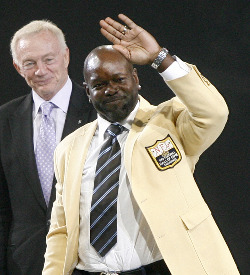 Posted by Will Brinson
Whether or not you think Emmitt Smith is the greatest running back of all-time (I don't;
I'm not alone)
, he was one of the all-time greatest backs to ever grace the gridiron, and he's a lock-job Hall of Famer. That probably explains why they saved his speech for last (well, that and the distinct possibility that he could offer up an amazing gaffe).
Emmitt moved through a list of people he wanted to thank -- Troy Aikman, Michael Irvin, Jimmy Johnson, Norv Turner, Jerry Jones and many more from earlier in his career -- and finally called out "Daryl Johnston, where are you?"
At this point, the crowd (which featured a LOT of Dallas Cowboy fans) went bonkers, screaming "MOOOOOOOOOOOOOSE!!" as Johnston stood up from his seat in the crowd.
"Darryl, you mean the world to me," Emmitt began, before thanking him first for his blocking and then, as the all-time leading rusher began to become clearly emotional, for treating Smith "like a brother."
"Without you," Emmitt said, wiping away tears from his face. "I know today would not have been possible. I love you, Daryl, from the bottom of my heart."
It was a pretty touching moment in what was an exceptional speech, even for the most cynical of Emmitt haters.
For more NFL news, rumors and analysis, follow @cbssportsnfl on Twitter and subscribe to our RSS Feed .