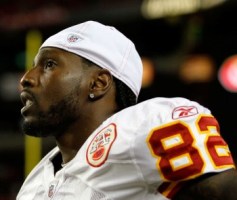 Posted by Josh Katzowitz
An interesting story today by the
Kansas City Star's
Sam Mellinger on the status of WR
Dwayne Bowe
.
Bowe, as you know, was a first-round pick in the 2007 Draft, and while he's been pretty good for much of his career, he hasn't quite lived up to his expectations. In part, it's because he, at times, isn't exactly a mature young man (the headline of the story actually refers to him as a knucklehead).
And because he keeps dropping the ball (11 times in 11 games last year).
A passage from the story:

We can see that (QB Matt) Cassel at least cares, that he's doing everything possible to be good. With Bowe, he is still too easily distracted to say with any confidence.

So far, Bowe is showing occasional flashes, which is good, but also more of the obnoxious behavior the Chiefs have spent so much energy trying to quash. That's not so good.

Bowe isn't talking to the media — a smart move for him and his teammates' marriages — but his inner knucklehead is still very much here.

He has talked to fans during drills in which he's going the wrong direction and stood away from his teammates toward the end of last week's game in Atlanta to hold the TV boom mic.
In the Chiefs first preseason game, Bowe recorded zero catches, and while Kansas City's coaches don't seem bothered by that, Cassel and Bowe have to begun connecting at some point. Especially since much of Cassel's success will ride on Bowe.
For more NFL news, rumors and analysis, follow @cbssportsnfl on Twitter and subscribe to our RSS Feed .