Posted by Andy Benoit
Something we tend to overlook is how a player's contract impacts the rest of the team's morale. Players like to see their teammates get rewarded. It tells them management cares about the players and gives everyone in the locker room hope that they, too, will get a huge payday if they earn it.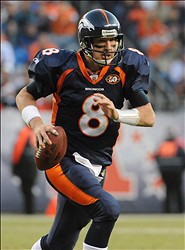 This is why it's dangerous for the
Patriots
to drag their feet with
Tom Brady
or for the
Jets
to extend the contracts of Rex Ryan and Mike Tannenbaum but not cornerback Darrelle Revis.
On this note, Lindsay Jones of the Denver Post
makes an excellent point
about the new deal the
Broncos
gave quarterback
Kyle Orton
.
Orton, as we all know by now, just signed a one-year contract extension that will pay him $8.8 million in 2011 on top of the $2.62 million he will make this season as the team's starting quarterback.
Other players were not available for interviews today — typical team policy for the day before games — but I imagine the news of Orton's extension went over very well.
Not only is Orton a popular guy in the locker room and the unquestioned leader of the offense, it was clear throughout training camp that Orton is, by far, the team's best quarterback. His teammates noticed, and know that Orton gives the team the best chance to win now. Not to mention that if the quarterback is happy, it certainly helps morale for the rest of the team.
Orton's extension should also send a message to the rest of the team that players can work and play their way into more money and a longer contract.
Obviously, the Broncos didn't have to pay Orton. They have his long-term replacement,
Tim Tebow
, already on the roster. And $8.8 million is a lot of money for a middle-of-the-road passer. But with Orton locked up through 2011, all immediate distractions under center are at least curtailed. And, should Tebow prove to not be ready by next season, the Broncos won't find themselves negotiating with Orton without any leverage.
For more NFL news, rumors and analysis, follow

@cbssportsnfl

on Twitter and subscribe to our RSS feed.