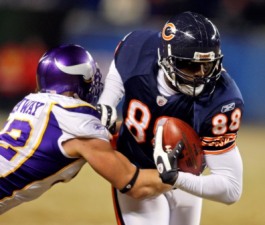 Posted by Josh Katzowitz
If you were watching the
Bears
-Raiders game Saturday night, you might have noticed how bad Chicago's long snapper performed. Well, there's a reason for that. The long snapper isn't a long snapper by trade.
Instead it was TE
Desmond Clark
snapping the ball on punts and field goals, filling in for the injured
Patrick Mannelly
, who suffered a neck stinger last week against San Diego. His first two snaps were bad – an extra point and a punt – and then he bounced another one to holder
Brad Maynard
on a 38-yard field goal attempt. In the end, kicker
Robbie Gould
had to field the ball and throw it toward the sidelines, which earned him an intentional grounding penalty.
After that snap, Clark shook his head like he couldn't believe how bad he was snapping. Well, if he's not a long-snapper, you have to cut the guy some slack.
Of course, this leads to a question posed by the
Chicago Tribune's
Brad Biggs: since Mannelly didn't practice all week and the Bears knew he wouldn't play, why wouldn't they sign a free agent long snapper to take his place? Why throw the veteran tight end into the mix? Why put your holder, kicker and/or punter in jeopardy of having to field a punt against a rush?
Biggs investigates:
The alternative would have been for the Bears to release the 80th player on the roster and sign a long snapper this week for the game so they could be prepared for the game. It would have given special teams coordinator Dave Toub an opportunity to evaluate a street free agent in the event an emergency arises.

"That's not for me to decide," Maynard said. "We were comfortable with Dez and obviously they made the decision to go with him. I would be comfortable going with him next week. I think it's a learning experience for him."

The upside, of course, is that if Mannelly is injured in a regular-season game and cannot continue, Clark now has live game experience, even if it's preseason action.

"For me tonight, in the first couple snaps I just had to trust my technique and not try to be perfect," Clark said. "I was just trying to do everything absolutely perfect instead of just doing what I have been doing for the last six years.

"If I had to go in there again, I would put money on myself that the job would get done."
For more NFL news, rumors and analysis, follow @cbssportsnfl on Twitter and subscribe to our RSS Feed .