Posted by Andy Benoit

Interesting quote from Brad Childress. The
Vikings
head coach is making it clear that the decision to have Sidney R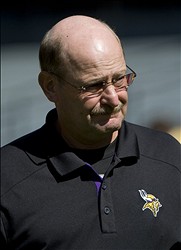 ice go under the knife was made solely by…Sidney Rice.
"I can't feel what he's feeling," Childress said,
according to the Star Tribune
. "In the end, it's up to him whether he wanted to have that procedure or whether he could press through. [Reporters] saw him run out here the other day and move around [during rehabilitation]. Obviously he felt it was more of a nag to where he couldn't slough it up. He wanted to remedy it by having a procedure."
To be fair, Childress said this in response to being asked if Rice's surgery was a business decision (the fourth-year pro is reportedly unhappy with his contract). Childress said, "I don't know that I'd term it that way."
More from Childress:
Asked if he was satisfied with how this played out, Childress said: "No, I'd really be satisfied if he was out here running around on the football field. But that's not the reality of it. Conservative approach. You can second guess it and say, 'Geez, he could be back and [have had it] done.' We've got a decent hip guy in Dr. [Chris] Larson, who consulted with the Tennessee Titans team physician and consulted with Dr. [Marc] Philippon [who is one of the leading hip surgeons in the country] . You lay all those options out there and it's not like I'm trying to sell him one way or the other. The athlete knows what he has to have done."
Obviously, Childress isn't throwing Rice under the bus. But you don't hear the coach saying that the team fully understands and supports the receiver's decision, either.
UPDATE: Childress hasn't rule out putting rice on IR,
according to Pro Football Talk
.
For more NFL news, rumors and analysis, follow

@cbssportsnfl

on Twitter and subscribe to our
RSS Feed
.