Posted by Josh Katzowitz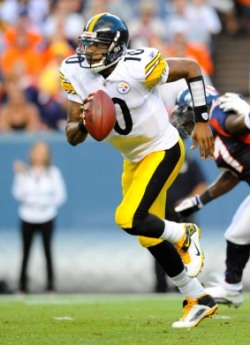 Earlier this evening,
we presented three burning questions
the
Steelers
and the
Broncos
would face when they met at Invesco Field. After Denver finished off a 34-17 win, we have a few more answers (which are in bold).
Steelers
1. What the heck is going on with the starting QB spot? This has been one of my favorite questions all preseason, because much of what the Steelers coaching staff has done hasn't made sense to me. Like tonight, for example.
Byron Leftwich
most likely will be the starter once the season begins, but he probably won't play tonight until the second half when the second-team is going, after
Ben Roethlisberger
– who, of course, won't be playing the season-opener – and
Dennis Dixon
, who should be the starter in place of Roethlisberger, takes their reps. A bonus question: why?
I still don't know the answer, but I'll tell you this: Dixon lost any chance he had to be a starter by tossing two interceptions and showing his inexperience and poor decision-making.
2. How will C
Maurkice Pouncey
perform against a first-team defensive line? Earlier this week, Pouncey surpassed
Justin Hartwig
as the starting center, and tonight, he'll test his wares against a very good nose tackle in
Jamal Williams
.
He had some good moments against Williams and some bad moments where he allowed the Broncos to penetrate the backfield and get pressure on Dixon. But overall, this is a move that should work out well for Pittsburgh.

3. What's up with RB
Rashard Mendenhall
? There have been rumors that Mendenhall suffered a broken arm in practice, but those talks have been debunked by reporters who actually are in the know. He is expected to start tonight.
Of course, he played. No surprise there. He was workmanlike with 28 yards on five carries before calling it a night. But the breakout RB belonged to Steelers rookie Jonathan Dwyer, who recorded 89 yards and a score on just 13 carries while looking strong on one play and fast on the next.
Broncos
1. Will the run defense stop anybody? Last year, the Broncos ranked 26th in the NFL by allowing 128.7 rushing yards per game. So, after signing a plethora of defensive linemen in the offseason, where has that gotten the Broncos? Dead last in the preseason stats with 171 rushing yards per game. Tonight, Mendenhall will provide the next test for the Broncos defense to pass.
Dwyer was awesome tonight, though it came mostly against second and third-stringers. Still, the Broncos allowed 175 rushing yards on the night. Obviously, that's not what Denver's coaches wanted.

2. Can RB
Knowshon Moreno
play tonight? It doesn't sound like it. As the Denver Post reports, Moreno doesn't look anywhere close to returning, as he's taking his cuts rather gingerly. The Broncos need him to return to the starting lineup, but it most likely won't be tonight's starting lineup.
No, he didn't play. Instead, we saw the return of LenDale White, who actually looked pretty good. He had 34 yards and a score on 12 yards, and if he didn't have to sit out a four-game suspension to open the season, he'd have a better chance of making the squad.
3. Will
Tim Tebow
return? Of course, we have to ask this question, no matter how dirty it makes us feel. Pregame reports are saying he was throwing during warmups, so it sounds like he might dress. And if he dresses, there's a decent chance he plays.
He played, and he threw a god-awful interception. But he also showed a nice touch and good awareness on his 3-yard TD pass to Eric Decker. Either way, he looked more competent than Brady Quinn.
A few more observations:
-There was plenty of talk about how punter
Daniel Sepulveda
would take
Jeff Reed
's job as the kickoff specialist. Well, Sepulveda booted the game-opening kickoff out of bounds for a penalty. One word: ugh.
-James Farrior did his best
Eli Manning
impression with that cut on his head.
-There was a scary moment for Broncos fans when
Kyle Orton
tried to deliver a hit on Steelers LB
James Harrison
after he picked up and ran with an alleged fumble. We'll say this: it didn't end well for Orton, who briefly left the game following his tackle. Like I said on Twitter, you don't want Orton anywhere near Harrison when the latter is returning a possible fumble.
-The Steelers accumulated four personal foul penalties in the first half. That's pretty ridiculous. Not the sign of a real disciplined team.
For more NFL news, rumors and analysis, follow @cbssportsnfl on Twitter and subscribe to our RSS Feed .